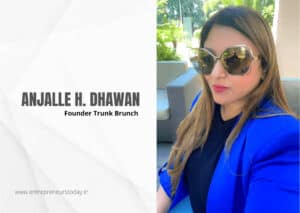 Trunk Brunch has been hosting some of the best of home grown Luxury Lifestyle brands through curated fashion pop ups in Gurgaon's luxury condominiums.
The founder Anjalle H. Dhawan had her independent fashion startup after completing a diploma in the subject. When she tried participating in exhibitions to showcase her products, they would be inevitably overshadowed by the allure of the branded clothing in glorious display.
Trunk Brunch, as an event organizing platform for fashion and luxury lifestyle brands is specifically directed at hosting startups and their fresh work. Anjalle Dhawan herself curates the products and brands to be displayed, along with hosting events like soirees, with exhibitions as the backdrop. She is also the founder of Plump Skin Food, a line of organic and chemical free luxury serums and skincare products.
Through her twenties, Anjalle Dhawan worked on establishing an identity for herself, and she advises her juniors to be steady and conscientious in their twenties. That is what she had learnt from her own days as a beginner in the industry.
Although her fashion brand was fairly successful, she felt limited by its scope. Her dreams were grander, and she slowly built up her own curating platform Trunk Brunch, to accommodate the many contemporaries whose work she admired in exhibitions. The home grown, nature of these brands would be contrasted by the sheer quality and design of these luxury clothes.
Read More: Becoming a Better Egg: The EVO-lution of Shraddha Bhansali
As an entrepreneur, she is a firm believer in supporting one's compatriots. It is the only way to maintain this entrepreneurial wave that has risen in our midst.
Anjalle is proud of having hosted her events in many of the impressive luxury condominiums of Gurgaon, namely DLF Magnolias, DLf Aralias, DLF Crest, DLF Golf and Country Club. The products were given their pride of place in those premises.
Her efforts as an organizer and curator of all things luxury in clothing had been recognised twice by the Delhi Government through the Young Entrepreneur Award.
Her vision for the brand is to take it beyond state borders, in other metropolitan areas of the world, where more underrated home grown luxury fashion brands are just waiting to be discovered.