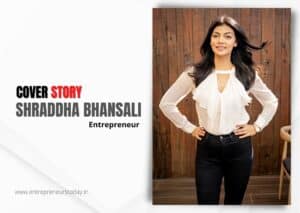 Shraddha Bhansali – The etiquette of food binds us all. The love and community experience that surrounds its preparation and consumption. The kitchen and dining are spaces of camaraderie and companionship, with bonds formed over shared tastes, and disagreements stewed over preferences.
As a child, Shraddha Bhansali had been awed by this possibility of human connection that food afforded and wanted desperately to be a part of it. In our small conversation about the trajectory of her professional journey, she reminisced about her awe of restaurant spaces, and the glamour and charm of eating out. A universally relatable sentiment, I was briefly taken back to my own childhood experiences in restaurants that seemed too well decorated to be anything but a dream.
An inveterate dreamer, Shraddha had settled on becoming a restaurateur in her early teens. To that effect, she chose to pursue an education in business and hospitality from Boston University and worked with a series of 5 Star Hotels before she felt confident enough to start her own business.
Her first venture was 'Candy & Green', the first 'farm to fork' restaurant of India in South Mumbai.
Elaborating on the inception of this idea, Shraddha mentioned her Jain background. She was appalled by the dismal situation of veg dishes in restaurants, where preparations around paneer ruled the roost. Really, vegetarian food was more about the absence of meat as opposed to the presence of fresh veggies.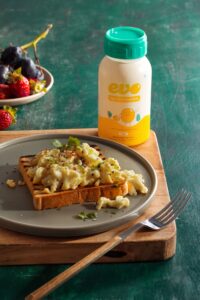 So Candy & Green was her attempt to rectify this oversight. The produce was cultivated on the terrace of the building, and each dish was built around one 'hero' ingredient. An avid foodie, Shraddha stressed the texture of different vegetables and was keen on allowing them to flourish within the dish, and not be drowned under copious amounts of masala.  And paneer, of course, was conspicuously absent.
'Candy & Green' was a veritable sensation and success in South Mumbai. Its unique presentation and identity invited a lot of adoration and patronage. However, it was an intensive and limited endeavour. By its very 'farm to fork' nature, Shraddha knew it wouldn't be a feasible franchise idea. So she felt 'stuck' under the constraints of running this restaurant.
-If your dreams don't scare you, they are not big enough-
She wanted to influence the consumption patterns of the world in a way much beyond the scope of a single restaurant.
It was around this situation of a creative block that she was introduced to Kartik Dixit. He was working on a synthetic meat product at that point, and this possibility of producing cruelty free animal produce interested Shraddha. The initial conversation between the two began with trying to implement the synthetic meat as an ingredient in 'Candy & Green', but unfortunately the product wasn't market ready yet.
Ever the entrepreneur, Shraddha Bhansali decided to run with the idea of traditional animal produce developed artificially, or with plant products, leading to the establishment of 'EVO Foods'.
Our consumption of food, since the inception of cooking, had only developed in terms of packaging. While the human civilization had learnt to harness newer types of energy and mechanization in every other facet of life, food only changed in terms of the number of plastic wrappers they came covered in.
Shraddha was eager to change this stagnation. With 'Candy & Green', she had already attempted a revision of the Indian idea of vegetarian food, and with 'EVO Foods' plant-based whole egg liquid, that same zeal for culinary progress was brought to the non-vegetarian recipes of the world.
So what is this 'EVO egg alternative'?
Put simply, it is a pre battered egg liquid made completely out of plant produce. It may be used to produce any and every egg recipe, and develop new ones, if one so desires. (it cannot bake)
The product is set to launch in restaurants at the end of February 2022, and hopefully revolutionize the vegan way of consumption. When asked about the community she is producing for, Shraddha confesses that she is a sporadic vegan, with occasional indulgences in dairy products, simply due to the lack of available alternatives.
-It is a necessity to have a majorly plant based diet for a sustainable existence-
Although her statement might seem provocative, it is a rationalized and balanced view, with no ill will towards any kind of dietary practice. It is simply a more ethical way to consume and live, she says. And one would be hard pressed to disagree. The meat packing industry is one of the major contributors of green house gases on the planet.
Her approach is not absolute. She wants the world to acknowledge the need for this change, and lessen their daily consumption of animal products as much as possible. With her intimate association with the alternative food production industry, she is positive that vegetarian alternatives to animal produce are not far off, and would soon be commonplace enough to facilitate mundane consumption.
Read More: The Dreams of Success: Ashish Chopra 's Quiet Triumph in The World of Films
Speaking about the environmental cost of production, Shraddha stressed that the 'EVO egg alternative' consumed 60% less soil, 90% less water, and 91% less energy while in production, as opposed to the poultry industry. While not a carbon negative process by any means, it is certainly a huge step in the right direction.
Elaborating on her experience with changing her work orientation, from a restaurant owner to a manufacturer, Shraddha heaps sincere thanks on her co-founder Kartik, and the rest of her team at EVO. They made the transference of her skillset from one setting to another that much smoother.
On her future dreams with EVO, Shraddha Bhansali is characteristically ambitious. The entrepreneur, featured in Forbes's 30 under 30 for India and Asia, wants to change the world, and as quickly as possible. The egg alternative is priced slightly higher than poultry eggs currently and will be launched in Mumbai through e-commerce facilities by March 2022. But they are looking to reduce the cost through a streamlining of the production process.
The confidence with which Shraddha speaks makes me sure that she will certainly reach her goal to make the vegetarian egg alternative the staple form of consumption across the nation and the world in the upcoming decade, not just in the cosmopolitan world of urban vegans, but in the mundane existence of the general masses.
Now the only thing for us to do is sit and await the arrival of this culinary revolution.
So, here's to Shraddha making the world a better batter of eggs.