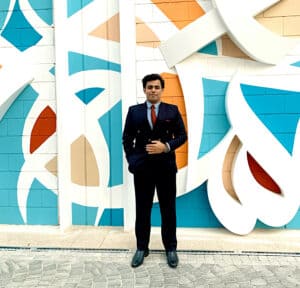 At 22 years old Ashish Chopra is already spouting words of wisdom and inspiration for his contemporaries. In his own words, he was a poor student and barely scraped through his school education, eventually failing in class 11, and being rusticated for his poor performance. This incident made him take stock of his life, and focus on his future. After graduating from a different school, he joined the International Institute of Hotel Management and got his degree from the University of West London by 2020. However, he soon realised that this wasn't the professional path he wanted to follow.
He had been an active theatre worker since the age of seven and has continued with the profession till his adult life, holding a diploma from Shri Ram Centre of Performing Arts. On the other hand, he was also a skilled cricketer who had played till the nationals. Oscillating between these two passions, he chose to follow his artistic calling and became intimately associated with the theatre world. He even joined an institute which allowed him to be in contact with the world of performing arts but felt a stagnation pervade his life.
It was the time of the pandemic, and while being stuck at home he spent his time jotting his wandering thoughts into story ideas. Around the same time he chanced upon a poorly made film streaming in a popular streaming service, and was struck with the idea of making one himself. He was sure he could make a better film than the one he had just watched.
Read More: Dr. Sheetal Nair  – It's hard to beat someone who never gives up.
We have all had such thoughts, but it is to Ashish's credit that he pursued it to the end and made it into a reality. He wrote a script based on his own childhood experiences and his love for cricket and began looking for funding for his film. But it wasn't easy. No one was willing to bet on the novice young filmmaker with big dreams. Facing multiple roadblocks on the way to acquire support for his project, Ashish simply decided to establish his own production firm. The idea seemed preposterous to most people around him, who tried to dissuade him from this endeavour. But Ashish had his mind made up.
Having not received any help from established individuals, he decided to make his film with the help of fresh, untested talent like him. He got his brother Vansh Walia to collaborate with him. Despite him being a school student, his keen interest in the art of film making made him the perfect choice as the director of their debut short film, Bat Ball. He employed another brother, Shaleen Kapoor, to edit the film for him.
The film's story drew on Ashish's childhood experiences with cricket and has gone on to receive critical acclaim from across the board. However, he had a difficult time trying to find a distributor for his product. Almost three months of hunting later, he managed to form a deal with MX Player and Hungama Play for an international release. The public response was instant and explosive. The film was streamed over 5 million times within two weeks. Following release, it was screened at the Great Indian Film Festival, the Chittaranjan Film Festival of Kolkata, and Dubai EXPO 2020. Such a resoundingly positive response overwhelmed Ashish and his team, and they were inspired to make another short film. Called Mandakini, the film is a statement against the practice of casteism and is awaiting release on Disney+ Hotstar.
Ashish plans to continue with his film making dreams through his production firm, where he wants to give freshers' a chance to explore their creative pursuits. Having already seen the difficulties young creators face, he wants to provide a platform for the benefit of those people whose dreams are scoffed at by the world. Additionally, he also wants to be a hotelier and plans to use his influence as a film maker to realize that dream as well.
As he so eloquently puts it, 'Don't just dream, but work towards it.'
In that regard, he has indeed shown the way.