It can be thrilling to work for a tech company since you're surrounded by inspiration, innovation, and creativity.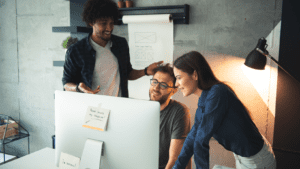 Due to the rise in startups and the jobs they offer, any professional or job seeker should weigh the benefits and drawbacks of working at one. Working for a young, inexperienced company can differ from working for a seasoned, established company. To determine if a startup is a proper fit for you, examining these nuances is vital.
Benefits of Working for a Startup
Notable employee value
In a huge company, you can be one of several employees performing the same job role. You might be the only person in a startup doing your work, and you might also be filling a few other responsibilities at the same time. You'll be able to clearly gauge your impact on the organization. Your coworkers are probably more concerned with teamwork and encouragement than rivalry because everyone is striving to launch the company.
Even though you only received a brief job description and its specifics, as a startup employee, you essentially have the power to develop inside the position and add to its tasks.
Lasting networks
Even though the job you hold requires you to wear several "hats," one of the best things about working for a young company is the variety of people you'll get to know. Making significant partnerships outside of a company is essential for its survival and success.
Being a part of a startup from the beginning can result in the development of your professional network as well as the forming of lifelong connections.
Flexibility 
With startups, you have more freedom and flexibility over both your schedule and how you approach the work itself. This means that the method by which time you complete the task can be variable, even though the necessity of delivering is still present (remember, you might be the only person performing your job). In reality, you might need to be adaptable in your approach to your work, particularly if you're working on a novel project. With a new business launch, trial and error are inevitable, and you might find yourself exercising flexibility as you take on duties you never anticipated.
Chance to grow skills
There won't be a corporate training department with a set career path for new hires because they're charting new ground. Thus, you'll need to pick things up as you go and as the business expands. You'll also collaborate closely with accomplished businesspeople who frequently possess a singular combination of drive, originality, and creativity. Therefore, you will get a lot of knowledge by watching your coworkers and the executives at your organization.
Drawbacks of Working with Startups
Instability
Startups might be unpredictable. Quite a few of them will actually fail. This does not necessarily mean that your choice is doomed, but it does indicate that there is a chance that your employment situation might alter. And even if the business survives, financial or resource shortages can cause payments to be reduced or suspended.
Unclear responsibilities
Due to the ambiguous job description and KPIs, working for a startup company may not be ideal for you if you prefer a career with a known list of duties. Long working hours, little pay, and a lot of duties are more or less anticipated. Work becomes intolerable when you add legal action, impending business failure, and nagging customers.
It takes a great amount of enthusiasm and commitment to start a business from scratch. And while doing so requires motivating coworkers, it also necessitates working long hours, which occasionally go into the evenings, weekends, or even on holidays. As businesses rush to launch products, establish a customer base, or complete several tasks, hours are frequently irregular and rarely adhere to the "9-5." 
Low salary
Startups typically put all of their available funds toward operating costs rather than compensation as they strive to obtain funding and launch a product or service. Accordingly, depending on your position within the company, you should anticipate receiving lesser pay at a startup than you would at a well-established one and possibly receiving some equity instead. Startups typically cannot negotiate the same comprehensive benefits packages as larger firms because they typically have a smaller employee base.
So, would you be a good fit?
Each person will have a different response to the subject.  It is important to think about your working style and whether a lack of organization will help or hurt you. You should also think about your own circumstances, including if your financial status can handle a reduced salary or if debt repayment or other obligations would cost extra.
Finally, startup culture may be ideal for someone who wants to swiftly broaden their skill set and get involved in something new.
Read more: Business Loan Schemes for Women Entrepreneurs in India