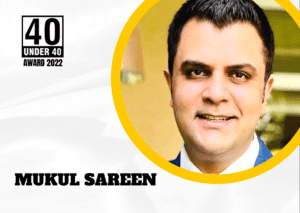 Hi Tech Group's commitment to sustainability is centered on lowering greenhouse gas emissions, minimizing reliance on derivatives of fossil fuels, promoting the use of renewable energies, and reducing plastic waste in the environment.
With growth rates of more than 200% over the previous three years, Hi-Tech is one of the manufacturers in the Indian market that is expanding the fastest in its sector.
True Visionary
Mukul Sareen, a visionary and astute businessman, is passionate about the many patents he has on innovations in the fields of bioplastics, microbiology, anti-corrosion chemicals, and automation technology. He received his degree in international business from RMIT University in Australia and went on to Harvard University to pursue additional studies in strategy. Mukul Sareen oversees the company's global sales, strategy, and new initiatives.
Innovation and Impact
Since 2003, HI Tech Group has been working with polymers, chemicals, and lubricants. Since the beginning, they have always been pioneers and leaders in innovation.
There is now a significant need to create sustainable bioplastics due to shifting global dynamics, environmental responsibility, and awareness. Thus, Hi Tech invested time, resources, and teams to create the ideal bio-polymer, from which they eventually made things like straws, compostable bags, cutlery, and 3D filaments.
Mukul and Siddharth Sareen formed Hi-Tech International, a business with headquarters in Gurugram, to manufacture Dr. Bio, a plant-based biopolymer. The Dr. Bio technology, according to the brothers, has the potential to eventually replace single-use and multi-use plastic items including bottles, straws, cups, disposable cutlery, compostable bags, etc. with bio-compostable plastic.
Achievements
Hi-Tech has triumphed by identifying issues in the sector and developing new innovations that will also have an impact on sustainability, produce value, and be able to satisfy market demand. Hi-Tech International Group, headed by Mukul, has developed a number of innovations and is the owner of 28 trademarks in 32 nations, 14 patents, and patents pending.
The company has grown to include 500 products in its product line over the past 20 years, penetrating key markets like the USA, France, Mexico, Italy, India, and China. With seven manufacturing facilities in India, one in each of the USA, Mexico, and Italy, Hi Tech Group serves over 75,000 customers.
The effective Global 360 customer care program, which is meant to offer seamless after-sales service and technical assistance to its clients, is another success element for Hi Tech and a key factor in why customers choose their products.
However, the most challenging period for Mukul was when they established the manufacturing facility in California, USA, in 2014.
Future Plans
Seven years down the line, Mukul sees himself working more towards protecting the environment by lowering carbon footprint by 70% and is committed to the cause of educating users, industries, and customers. He plans to work persistently to create a sustainable environment, export their innovations to at least 100 nations worldwide from the existing 45, and create jobs for three times as many people as they already employ.