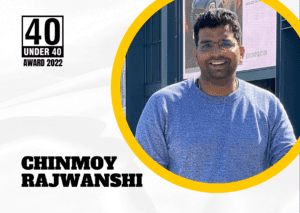 How to bridge the education corporate gap?
Chinmoy Rajwanshi for more than a decade had been involved with digital entrepreneurship and has analyzed the industry from aspects of Design, Technology, and Business. He began his career working with Mobiliya Technology where he experienced the adoption of mobility – taking enterprises to mobile devices. With the beginning of the digitalisation and rapid adoption of consumer tech business, Chinmoy co-founded Fortune Cookie UX Design and worked directly with new internet companies and existing brands to go online, innovate new online revenue models, and create engaging digital customer experiences for the end users. FCUX was later acquired by EY and then Chinmoy served as Director for CX practice at EY.
This was formative for him to understand the disconnect between the practicalities of the industry and the theoretical musings of the classroom. While he saw the functioning of higher education with only 15% of universities providing good education, he was struck by the singular feeling that the Indian education ecosystem was broken and the university and industry are not together. He identified that the universities have the right intention by somehow they were not able to come to par with the rising industry demand and student expectations. This got him committed to working on creating better learning experiences and upscaling the education system. This gave birth to ImaginXP, his edtech venture in higher education.
ImaginXP is a neo-university brand that would work in tandem with universities of the country to develop and teach new age future skill curriculums that were pertinent to the skill set demanded by the current marketplace.
Education as a Service
Chinmoy, a BTech E&C from Rajasthan Technical University and MBA from Symbiosis, Pune very early in age realized that the entire education ecosystem is not aptly developed. There is a gap between what the industry needs and what most of the institutions are providing. Through ImaginXP he is creating that ecosystem in which students get the right skillset from the industry and the expertise of the corporate. Having an individual brick-and-mortar institute wasn't viable, because their budget was small, and their dreams expansive. So instead, they focused on developing industry-relevant and future skill-focused courses and curriculums that were pertinent to the digital era of existence. They wanted to provide a uniform teaching experience across the institutes that would reflect their house style and focus on innovating the stale course structures that characterize the university system in India.
ImaginXP was born as a neo-university, not just in its approach to education, but also in the things being taught. It started its journey at the end of the last decade in collaboration with universities by utilizing existing infrastructure and resources to provide 100x learning and life outcome to higher education students – where they provided the entire structure of the new age curriculums, along with a team of trained faculty members and corporate coaches. They also trained teachers from within the universities to replicate the house style and teach their own specialties from within the vocational lens of practical workspace.
Impact
Over the years ImaginXP has grown in stature and scope. Currently, they offer a plethora of courses in their new-age niche across 30 universities in India and South East Asia. The courses number to 66 separate specializations in UX design, game design,  AIML, blockchain, fintech, digital marketing, and more.
Chinmoy's vision is that Indian Universities should be among the top 500 Universities of the world by enabling them with the right set of industry-led education, research, and developing excellence centers in design, technology, and business. He is aware of the level of financial investment higher education requires. He talks about his clear mission of empowering the Indian ecosystem with trained professionals and hence contributing to India's 5 trillion dollar economy in coming years. He believes that to become a $5Tn economy, the country will need to increase its per capita income from $2000 to $10,000. One of the major contributions that will lead to this increase can only be by providing the right education in future-focused skills to be relevant and up to speed with rapidly changing market trends.
He emphasizes on students and hence is keen on working on their overall development. He ensures that students are made to engage in corporate working conditions, to help them relate better to the problem statements that arrive. Recently UGC has declared that corporate coaches may be counted as professors of practice and their classes may be included as part of the curriculum. This has allowed IXP to invite leaders from large corporations and banks to contribute time to the students. The company currently has about 1250 corporate coaches giving 5 or 6 hours of the week to their classrooms.
On his work front, Chinmoy has tried to maintain a fair culture. There is proper delegation of work across levels of skill and company hierarchy, but there is no gatekeeping of ideas and approaches. A company with limited funds, IXP is dependent on the enthusiasm and positive participation of its staff.
The company has a no-toxicity policy, with an abundance of leave days and flexible work-from-home opportunities. With global pushback against the unrealistic demands big corporations often make on their employees, Chinmoy and his partner are attempting to set a better example for the people joining the workforce. It is an extension of the education they are attempting to disseminate.
According to him, familiarity with digital interfaces and technology has spread to small and remote villages as well. He reminisces about talking to an old farmer in Rajasthan who was thrilled by the knowledge that his child was working in fintech, as he was aware of the concept through his usage of financial apps.
ImaginXP is honing in on the demographic dividend that the country is providing, by educating them more efficiently for the workplace. It is an internally organized effort that is updating the university modules alongside. Chinmoy dreams of the day when multiple Indian universities would feature amongst the best in the world, and Indian young professionals in all sectors and all demographics develop expertise in future skills and are of-course employable.