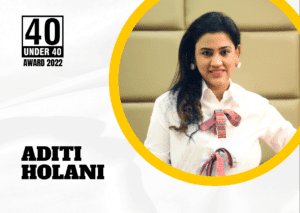 Based out of Kolkata, Aditi Holani, the founder of the clothing label Shoulder Lab, is an alumnus of CSM, University of Arts in London & NIFT, India. Aditi received her training from illustrious fashion designers like Alexander McQueen and Sophia Kokosalaki before launching her brand. In addition to her venture, she is also a part of her family-run business of rubber chemicals where she heads the Marketing vertical of the company.
Being an entrepreneur piqued Aditi's interest early on, and to her, nothing meant more than having a voice that eventually maneuvers its way through a visual medium. She initially viewed the fashion industry as a thrilling-exciting thing to learn from and a creative outlet to explore in her formative years, but as she gained work experience, she gradually began to recognize her passion for designing beautiful conceptual clothing and the associated production process. Since then she has developed a passion for the process of conceptualizing mood boards, researching them, and then turning them into ensembles. All of this led to the inception of Shoulder Lab, a label launched with the vision of creating something fresh.
The label Shoulder Lab encompasses intriguing ideas, notions, ideologies and contrasts these distinctive traits into garments. It emphasizes the different cutting styles and explores the vast surroundings while understanding the unique quality of diversity in our country. Combining surface techniques with interesting elements best describes the brand in entirety. A disparate approach of textures over material design in collaboration with the handloom clusters is the USP of the Brand.
A lesson Aditi learned in her 20s which she wants to convey to emerging entrepreneurs is not to get too influenced by what others are doing, to have our own voice, and be authentic to ourselves.
Feats of Success
Even though this is just the beginning, Aditi has received numerous accolades. She made her debut in 2013 at the prestigious Lakme Fashion Week Gennext Show. Aditi has participated in events not only in India but also across Dubai, Singapore, and South Africa. She also took part in the East India Fashion Week.
In collaboration with the Chattisgarh government, her collection was showcased in a solo show to promote Handloom. In the past, she also received the Yuva Ratna from the All India Marwari Manch in January 2018 for her contribution to the fashion space.
In addition, Aditi has also hosted a 3 episode talk show on TATA SKY (now TATA PLAY) where she spoke on dressing according to different body types. She also earned the "Young Women Achiever" designation from the Global Triumph Foundation in September 2018.
In 2020, she was a part of a podcast "The Mental Switch" where she spoke about fashion during the pandemic. Furthermore, she has participated in the LFW's Virtual Showroom in October 2020. Shoulder Lab has a holistic approach towards fashion, which is less number-driven and more purpose-driven (climate change, less carbon footprint, empowering weavers and clusters).
She adds "As a brand, we engage in less inventory, most of our styles are repeated only in 3-4 colorways, we encourage locally produced materials for surface texturization and use a lot of discarded waste (industrial and textiles) as embellishments. We work with ANT craft which employs 250 women weavers and procure all our textiles from them. We use minimal packaging and try to get our customized orders approved over zoom before dispatch. We are also happy to recycle and upcycle older collection pieces if they need a fresh makeover, repair or just some interesting separates to be combined with "
They have been noticed and applauded by Fashion Revolution India, SUSS (Sustainable Style Speak) and have been covered by Magazines such as Vogue, Elle, Grazia, Femina(Cover-shoot), and newspapers like Telegraph, Times, Deccan Chronicle and Indulge.
She is currently also the regional head of Fashion Revolution India, which is a global movement spreading all things sustainable.
Services
Shoulder Lab is a clothing company that offers clothes that are either off the rack or custom-made depending on the occasion and the specifications of the clients.
They mostly make edgy casual/occasion wear. The label embraces thought-provoking ideas and contrasts those distinctive features with one another utilizing a variety of cutting styles in collaboration with handloom clusters. Their clothing is made using textiles from Aagor weavers of Ant Craft, Assam. They strive for a zero-waste policy and all of their waste is recycled into jewelry. 
Not a cakewalk
The biggest difficulty she still encounters is conveying to the buyer why sustainable ensembles are priced the way they are. As a result, they regularly find themselves having to engage in more in-depth meaningful discussions with their clients about their manufacturing process, the purchase of textiles, and the entirety of their design-to-store operation including their supply chain strategy. Another minor challenge they encounter is maintaining the edge without compromising their ethical standards. They are constantly searching for innovative ways to carry out production glitches, ways to assemble eco-friendly materials, and above all, ways to keep and make things more exciting.
Future plans
Aditi hopes to break into the global buying market and take part in online/offline trade events. Additionally, they are considering expanding their business into a few other verticals that will provide a platform representation for the Indian artisan community. Furthermore, they would ideally like to collaborate with more such handloom clusters and widen their retail base domestically and internationally.
Shoulder Lab can be reached on www.shoulderlabclothing.com/[email protected]