Starting a business is more difficult than it appears. Financing is a crucial component of every organization. Any firm needs it as a foundation. However, some might not have financial assistance at first. For this reason, those who are eager to launch a firm are offered the chance to apply for business loans.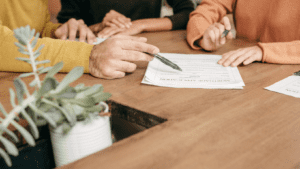 Particularly, there are fewer women business owners than there are men in the nation. Very few women who propose the idea of starting a business receive financial support from their homes. To address this issue, several banks have developed special loan programs for women who wish to launch their own enterprises and who are searching for financial support to grow their existing firms. Their main objective is to assist women in becoming financially independent and to assist women from various backgrounds in realizing their entrepreneurial aspirations.
In the last ten years, India has seen a rise in startups. A new generation of women business owners has successfully entered underserved industries like IT, automotive, cuisine, beauty, travel, sanitation, and even innovation. The absence of social and financial support, however, can be a major obstacle when starting and maintaining a firm. The Indian government has stepped up by launching credit programs specifically for women in an effort to make things simpler for women. These programs for women will be very beneficial in helping them secure the funding they need to launch their own businesses. Let's examine all the government programs.
The government has established a special financing program for female entrepreneurs, known as the Mudra Yojana scheme for women, as part of the Pradhan Mantri Mudra Yojana program.
Mahila Udhyami Yojana, another name for this program, offers flexible repayment terms and low-interest rates on loans up to Rs 10 lakh to women business owners.
Different banks, financial institutions, and microfinance organizations offer loans under the Mudra program (for both men and women), and these organizations receive funds from a unique public sector bank known as the Micro Units Development and Refinance Agency Bank.
The government has instructed all banks, NBFCs, and MFIs to lower interest rates by 25 basis points while offering Mudra loans to women. As a result, under this program, female entrepreneurs can pay less interest and take advantage of additional incentives.
Annapurna Scheme
This program provides loans of up to Rs 50,000 to women who want to launch food catering businesses. This loan, which has a three-year repayment period, can be used to buy supplies for the kitchen, such as raw ingredients and gas connections. The interest rate varies based on the market rate and the relevant bank. Both the Bharatiya Mahila Bank and the State Bank of Mysore offer this loan.
Stree Shakti Yojana
The State Bank of India has launched the Stree Shakti Scheme (SBI). This program is specially designed for women who aspire to start their own businesses or grow existing ones. For this business loan, applicants must be female entrepreneurs or have a shared capital of at least 51% as partners, shareholders, directors, or members of a cooperative society.
For women who borrow more than Rs. 2 lakh, the interest rate is reduced by 0.5% from the current interest rate. For loans up to Rs. 5 lakhs for small sector units, no special security is needed. a unique 5% reduction in the margin.
Dena Shakti Scheme
Dena Bank offers the Dena Shakti Scheme as a financing option for female entrepreneurs. Women interested in starting enterprises in industries like microcredit, manufacturing, agriculture, retail, and more would benefit from loan perks under this plan.
The interest rates on the Dena Shakti Scheme will be levied in accordance with the State Bank of India's and Dena Bank's regulations as they apply to various industries like agriculture, SE, and OPS. Women beneficiaries are given a discounted rate of 25 basic points, subject to restrictions established by the bank.
Bhartiya Mahila Bank Business Loan
Bharatiya Mahila Bank (BMB) was founded with the goal of advancing women's access to the workforce and paving the way for economic emancipation. The bank sets up a system for female business owners to obtain business loans. These business loans are intended for the majority of business needs, such as working capital requirements or business expansion. The Bharatiya Mahila Bank provides manufacturing businesses with loans up to a maximum of Rs. 20 crores. The Bharatiya Mahila Bank offers special business loans with enticing interest rates and also provides collateral-free loans up to Rs. 1 crore under CGTMSE insurance.
Women entrepreneurs can apply for loans up to Rs. 10 lakh through the Mahila Udyam Nidhi Scheme to launch their own small businesses. Banks may provide different interest rates under this arrangement. Existing projects may also be upgraded or expanded with financial support. With the moratorium pages up to 5 years, the maximum loan repayment time offered under this arrangement is up to 10 years.
Read more: The 2022 Asia Power Businesswomen List Includes Three Indian Entrepreneurs