This December, entrepreneur and Shark Tank India investor Ashneer Grover will publish his book, which he describes as being "all about the hypocrisy of life – success in failure and failure in success." Additionally, he will provide an intimate look at the unicorn-mythical world. The book is being published by Penguin India and is titled "Doglapan: The Hard Truth about Life and Start-ups." The book is marketed as being raw, gut-wrenchingly honest, and one of the finest stories from the Delhi youngster famed for his truth bombs.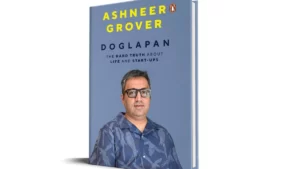 The narrative of the book follows Grover from his early years as a youngster growing up in Delhi to his rise to national renown. According to the book's blurb, this is Ashneer Grover's unfiltered tale. 
Since he had left his prior company in March, which was the subject of various conflicts, the news put everyone on social media into a frenzy. Grover claimed that as a result of his tweet becoming viral, the book immediately became a bestseller and was completely sold out.
The blurb of the book reads, "A young boy with a 'refugee' tag growing up in Delhi's Malviya Nagar outpaces his circumstances by becoming a rank-holder at the pinnacle of academic excellence in India-IIT Delhi. He goes on to do an MBA from the hallowed halls of IIM Ahmedabad, builds a career as an investment banker at Kotak Investment Banking and AmEx, and is pivotal in the making of two unicorns-Grofers, as CFO, and BharatPe, as co-founder.
As a judge on the popular TV show Shark Tank India, Ashneer becomes a household name even as his life turns upside down. Controversy, media spotlight, garrulous social media chatter descend, making it difficult to distinguish fact from fiction."
Following allegations of financial irregularities, Grover had a difficult exit from BharatPe earlier this year.
Grover had a public argument with the BharatPe board over claims that he and his family had engaged in fraud to support their opulent lifestyles.
In an episode of Shark Tank India's inaugural season, Grover used the phrase "doglapan," which is a Hindi word that means "hypocrisy." In the session, Grover's fellow "shark," Boat co-founder Aman Gupta, was mentioned as a potential investor in the emerging company. This irritated BharatPe's now-former managing director, who was also there.
The exchange quickly went viral and was made into memes. Amit Jain, the CEO and co-founder of CarDekho, has taken Grover's spot in the second season of the upcoming Indian version of the popular worldwide business reality show. The remaining six "sharks" have been kept.
Ashneer Grover formerly worked for the grocery delivery firm Grofers before joining BharatPe (now Blinkit).
Grover is reportedly currently attempting to launch a new start-up. On his birthday in June, he made a hint about the new endeavor.
Grover had announced, "Today I turn 40."Some will say I've lived a full life and experienced more things than most. Created value for generations. Time to disrupt another sector. It's time for the Third Unicorn." 
While talking about his book, Ashneer adds," "This is my real-life story, one which has left me with a lot more experience, a lot more grey hair, a lot more insight into who my actual friends and well-wishers are; a lot more understanding of 'doglapan' – of success in failure and failure in success; and a deeper understanding of what really matters in life," he goes on to add."
To promote his book he recently tweeted, "It is difficult to return someone's money, while an investor has to return cash 80 rupees instead of 1 rupee, that too in 3 years it is even more difficult. The BharatPay co-founder further wrote in his tweet, 'Know how I did all this and take inspiration!' Order your copy of 'Doglapan' today! This is a limited time deal."
Orders for the book can be made at this link for Rs 449, and it will be available on December 26.
Some facts about Ahsneer Grover
Ashneer Grover, who was up in affluent circumstances, earned his B.Tech in civil engineering from IIT Delhi. After that, he graduated with an MBA from IIM Ahmedabad. Grover graduated from college in 2006 and began working right away.

Ashneer was among a select group of six B.tech students (out of a batch of 450) who were chosen for an exchange program during his undergraduate studies. Grover attended the Institut National des Sciences Appliquées de Lyon as part of this program (France). Interestingly, the French Embassy gave him a scholarship for €6,000 as well.

Ashneer began his career in 2006 with Kotak Investment Banking, where he worked for seven years and completed ten projects totaling USD $3 billion. In 2013, he also worked for American Express and Amex. Grover also resigned as the Head of PC Jweller Ltd. after leaving Grofers as CFO.
Read more: Ways Entrepreneurs Can Manage the Impending Recession