Stocks are now 20% below their highs, signaling the start of a bear market. Many analysts forecast that we will experience a recession within the next few quarters. 
Contrary to popular belief, a recession can be the ideal time to set up your business for long-term growth and success.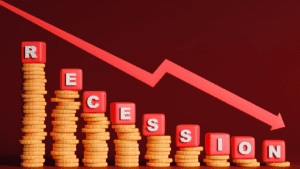 It is true that times are difficult. Startups in the early stages might anticipate fewer funding opportunities and smaller rounds. Firms still have problems, though, and other businesses can assist them. As a result, many investors are still willing to take chances if they think the product will succeed.
Furthermore, a weak economy aids in the demise of businesses that offer subpar or unnecessary services. Many of your rivals won't be able to respond. So, if you have a startup that is built on a sound concept, keep going. It may even present a fantastic chance for later-stage or well-funded firms to acquire faltering rivals.
Even while the impending recession could not be as severe as the global financial crisis of 2008, a protracted economic downturn and sharply higher interest rates are still possible outcomes.
The way entrepreneurs prepare for a recession makes a difference in whether they succeed or fail. Here are some things to keep in mind to keep your startup up and running: 
Assess your resources
Some businesses have better financial sheets than others, making them more likely to survive an economic slump. Even in challenging times, some entrepreneurs are able to raise money. Assess your current situation and the resources you have at your disposal before deciding on the best course of action for your startup.
It is imperative that you have a clear understanding of your financial situation by evaluating your fixed and variable costs as well as your actual revenue. Be mindful of immediate difficulties and concentrate on the vital necessities required for survival.
Invest judiciously
In a downturn, the natural tendency is to put off innovation, cut back on marketing, R&D, and staff training, halt hiring, and lay off workers. However, a downturn presents entrepreneurs with a special chance to wisely invest in their future.
Startups must therefore be thoughtful and strategic by keeping an eye on how customers are responding during this downturn rather than reducing costs. Startups are ideally positioned to course-correct faster than an established firm that is too entrenched in its ways, even if customer behavior or expectations shift.
Take into account alternative funding
During a downturn, it can be exceedingly challenging to raise finance. Investors might be interested in your company proposal, though, if you can show steady cash flows with high margins. Particularly those who are familiar with your company but may not have been admitted during the first round. 
Reduce Inventory
Take a stroll through the warehouse if you are in manufacturing or retail. In a downturn, it would be challenging to liquidate the cash that was stored there. Find out more about how to manage a lean inventory.
To determine how much inventory you need to meet demand, look at previous data about your company and customers. then keep up with that.
Establish a culture for remote work
Future jobs will be remote and flexible. The fact that you can lower office space prices is fantastic news on many levels, but it's also difficult.
It's crucial to create a successful remote culture. Find out the most effective techniques to lead scattered teams. Utilize tools to assist you in running your business on a daily basis. Global hiring opportunities are associated with remote work. The best personnel can be attracted, but hiring and payroll processes will also become more complicated and unstable. In spite of this, flexibility and effectiveness are still crucial, but the majority of payroll systems are not prepared for this transformation.
Conclusion
A resetting of capital flows and valuations would undoubtedly have a significant impact on entrepreneurs. As a result, the majority of businesses must now acknowledge that the market has likely passed its peak for readily available, inexpensive finance.
What more? Make a transformative arc that emphasizes your company's ability to open up new markets. To capture a portion of the market, it could be necessary to challenge your current business strategies. You can use this to show prospective investors how your company adds value.
Even while this viewpoint may not be widely shared, founders today must acknowledge that valuation criteria are prone to change and that companies from even a few months ago are no longer relevant. The fundamentals of entrepreneurial knowledge, such as lean startups, keeping profitable, etc., will start to hold true once again. 
Startups must be effective at both causing and responding to change, after all. Startups need to be ready for economic turmoil if they want to survive, given the current state of the world's finances.
Read more: The 2022 Asia Power Businesswomen List Includes Three Indian Entrepreneurs