Sizzlin Scizzors has been moving towards the aim of providing customers with an unrivaled experience from the brand's debut. They offer a profound experience that gives the latest hairstyles and cosmetic trends a completely new meaning.
For Sizzlin Scizzors, styling is more than just hairstyles and cosmetics; it's about making makeup time an experience that assures that one's inner beauty is reflected on their face and that radiance is unmatched. Sizzlin Scizzors has been offering its customers fantastic services for many years and aspires to continue giving the highest quality services in the years to come. Currently, they are thrilled to be expanding in Africa and Dubai.
Inception
The team's passion and affection for the fashion industry inspired them to launch the Sizzlin Scizzors. They examined the market and researched the $1 billion sector of the economy where they intended to close the gaps and meet the high standards of the clientele. From that point on, they began their journey from a single salon to a global chain of salons.
In a short period since being launched by Mrs. Deepali Chugh and Mr. Vaneesh Chugh, it rose to prominence, expanding to have three branches in Jaipur. Today, dedication and professionalism allow one to work in Jaipur's top salons. Sizzlin Scizzors is Bollywood's favorite salon not just among Jaipur residents but also with over 500 B-Town superstars.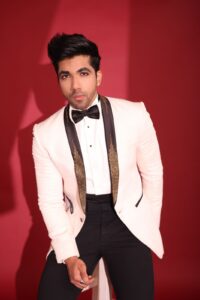 More about Ayan Chugh
Ayan is a forerunner in the fashion industry for the new generation, with several ventures that focus on various facets of glitz.
He has the desire to use his expertise and creativity to expand the fashion business as a venture investor. Ayan has experience working with well-known personalities both nationally and internationally, and he has the vision to transform the perception of the profession with his commitment to his mission. 
Ayan currently holds the titles of the Youth Icon of Rajasthan, the Economic Times future entrepreneur, and the winner of the luxury lifestyle awards from The First India News. With his extensive knowledge and expertise, he hopes to alter the industry. His passion is unmistakably evident in his work, and he does not hold back on experimentation.
His other ventures include Verona Italiano, Divian cosmetics, Chou Chou Salons worldwide, and HueKick Productions.
What are the services Sizzlin Scizzors offer?
To provide its clients with the greatest possible experience when they visit Sizzlin Scizzors, they provide a wide selection of luxurious elements. Their luxury services include:
A luxurious, relaxing atmosphere with modern décor and comfortable seating.

Their experienced and highly-trained stylists offer high-quality services.

They use top brands like L'Oréal Professional, Kérastase, GK, Moroccanoil, Dyson, etc.

Personalized attention and excellent customer experience are what make them different from other brands.
Training and commitment are mandatory in [Ayan's] point of view because half of the work is done when you know how to treat your customers.
When queried about his perspective on the significance of adequate training for experts in the fields of beauty and wellness, he asserts that there is no harm in grooming the staff from time to time only to hone their abilities. The director conducts special seminars, together with other well-known figures in the field, which have been shown to improve staff members' attention to detail—particularly concerning things like body language and other cues.
"Besides celebrities, the common need of everyone is to look different and customers should have the confidence that they are in the right hands. That even if they want to experiment with things they are in the right place without getting skeptical about it."
What do B-town celebs have to say about them? 
Rajpal Yadav says, "This place is very heavenly, and my soul is refreshed by coming here, not at all having the feeling to leave this place." 
When asked about Tia Bajpal's experience in Sizzlin Scizzors, she says, "I have never seen a better spa than Sizzlin Scizzors in Jaipur."
Sohail Khan says, "You guys have a very nice salon and spa here, even I have a property in Bombay which has been rented out to the place called Kalistan and I think they should come and learn from you."
The salon is also endorsed by other B-town celebrities like Shaman Joshi, Amy Jackson, Arbaj Khan, Nawazuddin Siddiqui, Manjari Fadnis, and Jaz Dhami. 
What does success mean to Ayan Chugh?
In an interview with Entrepreneurs Today, Chugh shares, "For me, success means the quality of work you are doing. And maintaining it throughout, the value of my brand is everything for me and that is portrayed in every sense with my work and vision and the image we have created!"
With their highly skilled stylists and makeup artists, together with the best aura and ambiance, Sizzlin Scizzors has prospered over the years and has serviced over 2,50,000 people.
With outstanding makeup and product lines, including a well-known hair and cosmetics brand, Sizzlin Scissors has developed fruitful alliances. Additionally, to provide their clients with the best service possible, they exclusively partner with numerous worldwide beauty, skincare, and haircare brands. 
Read more: MultiFit announced its partnership with Suniel Shetty and inaugurated a new branch in Wadgaonsheri