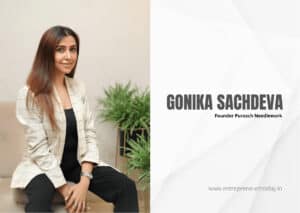 Beginning her career as a graduated CS professional, Gonika Sachdeva takes the subtle hints of her strong instincts towards creativity and design that led her to become one of the successful female entrepreneurs in the fashion and clothing industry. As we dwell deep on her twisting career, we found out how Gonika's bare interest contributed majorly to the fashion world.
In the clothing and fashion industry, Purosch Needlework is popularly known as standard-fit, classy, and a trendsetting brand. Being a CS professional and working with corporates in cubicles to design the journey was challenging yet listened to the voice of her heart and followed her dream to be a creative person and followed her passion for designing. Started in 2019, she has become one her own brand and a successful business woman.
This young lady proved success is the synonym of happiness, passion, and creativity. Defeating challenges everyday Sachdeva stood up as one of the most successful fashion and clothing brands to India, which is now catering to 12 cities in India and exporting talents overseas in countries like Canada, Australia and Dubai within a short time of the brand's establishment.
Miss Gonika Sachdeva, a diva of talent herself undertook all the charges and tasks by her during the initial stage of Purosch Needlework's career. She spent the majority of her day creating designs and brainstorming new concepts for the growth of her company. From the production schedules to connecting with clients, this extremely talented multitasker handled all by herself. In conversation with the founder of Purosch, Gonika Sachdeva talks about her journey from the corporate world to the glamourous world.
Read More: Iconic Wealth Manager (USA) Ankit Yadav To Enter Into The List Of Big Bull Of Market The Beginning Of Investment Journey
Payal: Miss Gonika Sachdeva, kindly brief yourself.
Gonika: I'm Gonika Sachdeva, and I graduated with a degree in business and certification as a professional CS. My passion for art and design drove me to become an unintentional entrepreneur, and Purosch needlework was born.
Payal: So, over the years of building your brand, what has been your most crucial learning?
Gonika: From my own personal experience, I've learned that it's critical to be surrounded by people who inspire you or can contribute to the development of your mindset during your formative years, as this makes a huge difference in deciding on a career path. Also, be open to every opportunity and allow yourself to be a little flexible.PR: Miss Sachdeva, how did you come up with the idea?GS: I like a minimalist, modern, and contemporary style, but I usually found outfits that were either too traditional or too casual, so I wanted to strike a balance where you could still be traditional while adding a western twist.
Payal: Tell us about your firm and brand.
We are a design firm that caters to every category of apparel ranging from corporates, custom, Prét, and bridal. I was very pleased to start my label because I was confident that I would be able to create something unique that would be my constant throughout my life, and I rely heavily on trust and belief.
Payal: Describe the growth of Purosch Needlework so far.
Purosch has so far been able to cater to 12 locations in India, as well as overseas clientele from Canada, Australia, and Dubai. We got the privilege to create for two contenders from Mrs.
India 2019, who were named Mrs. India Holistic Queen and Mrs. India Fashion Icon, respectively, as well as Mrs.India World 2021-22, who came in third place. We debuted our new collection at the Empower Diva 2022 event, which served as a fundraiser for unique children.
Payal: Being an entrepreneur, how do you feel about the challenges?
Gonika: Challenges are an inevitable part of entrepreneurship; they are a necessary part of the process, but luckily, with a clear vision in mind, we have been able to overcome the majority of them, particularly in COVID times, and having a work culture that values our artisans and gives them responsibility for running their households is a constant source of inspiration that keeps us moving forward.
Payal: Where do you see yourself in upcoming years?
Gonika: With my brand, I envision myself playing a bigger role. I want to build a line for the public that will cater to people all over India, as well as the Middle East and North America, and to have a presence with multi-design stores and a flagship store, as well as to be able to hire more women.
Payal: What message would you like to convey to the readers?
Gonika: I only want to convey one message: women's empowerment should begin in every household with the cooperation of men in every capacity; this is how India would be progressive in the real sense. A revolution can be sparked by a single tiny alteration in each home.