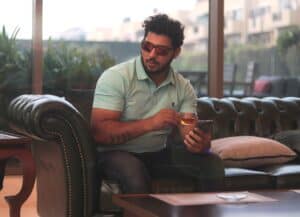 Manjeet Yadav – The story Start from a Dream, How to be a helpful hand for small Brands in Gurugram Market, How to Develop and stand a startup. Dedication with a Confidence with Zero bugs."
He has started this business alone in 2019.It's only hard work towards your goal for market now standing with more then 1 cr business value and managing more then 100+ brands. They are Digital Creator, with having a Strong Creative and Brand making team. They are different from other's because no one beat their price and quality. Their first vision is how to plan a strong revenue model for clients and how to make them a strong brand.
"Life of a businessman is tough
and we are often hit by a roadblock."
Manjeet yadav founder of two companies DreamersDream – Lets take a Brand feel and Vistox – Vision come true. Which are based on Design | Digital and IT.
A change meant for market with IT solution's… with Brand growth planning and promotion.
"Passion, resourcefulness, willingness to improvise and listen to others and strong determination to succeed is what makes a businessman successful."
Manjeet is an avid believer of the leadership that stimulates collaborative work culture. In his thoughtful endeavour to bring to bring a huge change in Brands Growth and Market's Business. Moreover, his innovative and hardworking outlook with a reasonable price which having a soft touch with clients business and quality alignment have helped his Entrepreneurial venture become a thumping success in short period only.
The Parting words by the CEO.
Businessman has to be a leader who walks the talk and understands the meaning of execution. Further, leadership means that businessman must not be afraid of failure and must instead, turn adversity into triumph and transform failure into a stepping stone for success.
Indeed, good businessman are those who are willing to trust their instincts and intuition and back themselves up when the venture is yet to fructify or even making losses. In other words, if you think that you have a great idea and are executing it well with the right team, you need to persist and keep going even when the conventional wisdom says that you are getting it wrong.
Read More: Iconic Wealth Manager (USA) Ankit Yadav To Enter Into The List Of Big Bull Of Market The Beginning Of Investment Journey
Businessman must be self actualizing visionaries. Ask any businessman and they would say that while money is indeed important and profits are indeed essential, it is always not about the money or that making profits is the only thing that matters. Instead, great businesses is all about heeding the inner voice, creating jobs and opportunities for others, be conscious of societal prosperity due to the venture instead of having a me, myself only attitude, and most importantly, translate their vision into success.
For instance, there are many of us who have heard or come across individuals who gave up cushy jobs to find their passions and to follow and chase their dreams. Therefore, successful entrepreneurship is all about making a difference to the world and becoming a social messiah who would transform societies with his or her ventures.
Like it or not, building your own empire
from scratch takes every bit of your heart,
soul, blood, and sweat.
Invest in people and build successful teams.
An Entrepreneur must foster creativity and innovation and adapt quickly to changing market condition . The Digitalization is future, so do more focus on it. Quality is important , always focus what market wants. Be flexible, Be Humble and Be Quality one.
A new Story with Zero to Hero Mr Manjeet Yadav Founder Of Two Companies DreamersDream- Let's Take a brand Feel and Vistox – Vision Come True.
A Leader Defined By his extraordinary
Vision to shape a Better Business
and startup Growth digitalization in India.