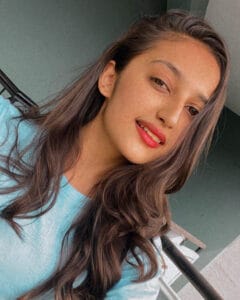 "I learned that if I ignored everyone who tried to bring me down and kept moving ahead one day I will reach a stage where I can stand on my own two feet. I also realized that it's okay to listen to the advice of others, but you never have to follow in others' footsteps. It might seem like you're walking alone on your path but one-day people will follow your example if you prove others wrong." This is Malvika's own account of a lesson she learned in her twenties.
Entrepreneurial spirit
Malvika Jain, a Bangalore native, started her career when she was 20 years old, right after graduating from college and before she had made up her mind about what she wanted to accomplish. Even while Malvika had a few possibilities, they were all aligned to the corporate world, and she was cognizant that she wasn't very enthusiastic about that career, she still needed to pursue other options in order to become financially independent.
Malvika developed a strong desire to work independently from an early age, whether it was to launch her own company or show others the rewards of doing so. There are many different approaches one might take in order to succeed than working a 9–5 corporate job. She started this business because she wanted to advance in her career. She founded this company primarily to combat the perception that success can only be attained as an employee of a large corporation.
Services
The major objective of her business, Leadzin, is to make accessible training programs for everyone. Additionally, it is the first company in India to offer an artificial intelligence system that aids in moneymaking. Leadzin additionally provides 100% job placements in business industries. Whether you're a student, a housewife, or a corporate worker, you can work from home while still reaping the rewards of independence. She will also provide you with privileged one-on-one training. Currently, she is mentoring more than 10,000 affiliates.
Achievement
The inaugural contest, which gave away a free personal automation system to the winner, was won by Malvika. She also won a getaway trip to Dubai and Mahabaleshwar that was entirely financed. As a result of her dedication to her career, she has made 24 lakhs in just 8 months. As the head of marketing at Leadzin, she presently instructs over 10,000 students.
Challenges
The most challenging for Malvika was probably when everyone forced her to get a corporate job and settle down as soon as she finished college.
The most motivating moment was probably when she received her first paycheck from Leadzin. That was when she knew she had made the right decision.
A message Malvika has for young entrepreneurs is that they should have confidence in themselves, set realistic goals, and work toward reaching those goals every day. She stresses, "Never give up, especially when things get hard. You don't have to work in a corporate job to be successful; times have changed."