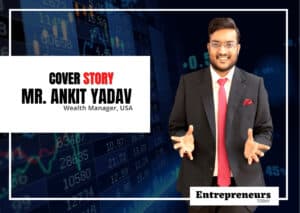 Cover Story Discovering the Market – A middle class kid from Bhilai, Chhattisgarh, Ankit Yadav (Wealth Manager, USA) was introduced to the share market and its intricacies at a young age. He was exposed to discussions of the share market through TV channels like CNBC and Zee Business.
When he was in class V or VI, he found a book on the share market. It was obviously a difficult read for a boy barely into teenage. But his interest in the matter made him persevere with it. It kept him company on long journeys in trains, and in other idle moments, until he had deciphered all its secrets. But that only piqued his interest more, and he continued to delve deeper into the world of stocks and shares.
The Beginning of Investments
The Wealth Manager(USA) Ankit have a habit of researching about shares and market from a very young age; and as soon as he reached the age of 18, he opened his DEMAT account and with an amount of Rs.5000/-, he placed his feet in the world of investing. He invested in shares of companies that were familiar to him through everyday interaction.
As he continued with his education, the initial investments fell to the wayside. It disheartened the young man, and drove him away from the market for a while.
But the world of shares is one of constant ups and downs, and he was reminded of this fact when his shares suddenly hit a significant high. This rejuvenated his interest in the world of stocks, and he returned to it with renewed enthusiasm. By then he had decided on pursuing a career in this field, and tuned his educational interests accordingly. He completed an MBA in Finance before moving to the United States to attend courses in Wealth Management and Chartered Economics to better bolster his claim as a dependable voice in the field of market research and analysis.
The Secrets of the Stock Market
Ankit Yadav is a tireless researcher. He continuously explores market possibilities in order to better comprehend its movements. When asked what has sustained his interest in this field for such a long time, he points towards the mathematical approximation which it allows.
Investment begins with an understanding of what shares mean, he explains. And how to find their intrinsic value.
Stocks are literally shares in the ownership of the company in question. Hence, with a purchase of a particular institute's share, we become fractional owners, and benefit or lose according to its performance in the market.
Following in the footsteps of his idol, Warren Buffet, Ankit endorses a formula for divining the intrinsic value of stocks. When juxtaposed against the retail price of shares, he is able to judge whether the stocks are worth investing in or not.
In other words, when the retail price is lower than the intrinsic value, it is time to invest, and when the situation is reversed, it is time to divest.
Accurate Stock Market & Economic Predictions
With such a strong hold over market fundamentals, his predictions inevitably yielded good results. It made him a valuable wealth manager across the world. This reputation was further strengthened with his disarmingly accurate predictions about market movements.
Famously, he had predicted the impending market crash of 2020 in 2018.
When asked how he knew, he explains, it is a close study of the return on bonds.
There are two types of bonds. The short term bonds, maturing at about two years, generally yield less interest than long term bonds, which last for about ten years.
However, when bonds yield are inverted, it signifies a shift in the market towards short term prediction. This means that the interest rates on short term bonds exceed that of long term bonds, causing a downward sloping curve on the graph. This is considered a pertinent signifier of an upcoming recession.
Sure enough, in 2020 the already volatile market was struck a huge blow by the COVID 19 pandemic, causing a 30-50 percent drop.
Although the market has recovered a smidge, Ankit Yadav warns that it is an artificial boom, and will soon falter again in 2023. But he is hopeful for an eventual reset via the recession spring effect. By 2025 the market should even out and stabilize once again in what he calls the great moderation. He predicts a W shaped recovery graph.
Wealth Acknowledgement
Ankit Yadav is founder and Director Of Market Maestroo Pvt. Ltd. Through his company Market Maestroo Pvt Ltd Ankit Yadav has been providing assistance to both novice and experienced investors on how to deal with the market. His work as a wealth manager and an individual speculator have earned him significant riches, putting him in the highest income bracket of the country.
Unlike many similarly fortunate people however, Ankit is not one to skimp on taxes. He has genuine respect for the welfare state, and has consistently paid the share required of him. With a net worth of 10-15 crore rupees, Ankit paid about 14 lakh rupees in GST in single month of 2021. Not only this, Ankit is also among the highest tax payers of the state.
As a socially conscious individual concerned by the widening gap between the rich and poor, Ankit candidly speaks in favour of increased taxation on wealth and luxury items, along with better schemes for people living below the poverty line.
Considering his work in the free market, his stance is unique. Most people in his position would have advocated for less regulation by the government. But Ankit Yadav is a cut above the common clay.
Currency Concerns
Speaking about investment, Ankit refers to cash flow as the oxygen of the economy. His reference, though, is not literal.
When asked about the rapid digitization of both the national and the world economy, he answers in its favour.
This increases the economic accountability of the world, through a meticulous maintenance of records. With the digital economy, every transaction comes with an exact receipt that makes tracing the cash flow easier. The calculation of GDP is now no longer an estimate of the goods and services produced within the country, but an exact reflection of the transactional reality.
He is not a fan of crypto currency though, and politely dismisses its impact on the economy. According to him, its fluctuations are not mathematically traceable because they are not anchored in tangible capital.
Advisory work
Ankit has been working in a professional advisory capacity for a long time. As stated before, his company Marketing Maestroo has been focused on educating people in the art of investment. He also runs an YouTube channel of the same name, where he explains the nitty-gritties of the market, and makes predictions about its movements.
His philanthropic interests have also led to regular collaborations with the Indian government since Arun Jaitley's tenure as the finance minister. His budgeting suggestions are always communicated to the centre and state governments whenever required.
However, when asked if he would like to take his political involvement to a professional level, he laughs.
Politics and religion are not my forte.
To new investors his advice is to shift away from credit cards. Falling into the debt trap is the worst mistake to do, especially with the global instability. The energy crisis is a looming reality yet to be dealt with, and intelligent collective investment is the only way out of its clutches, literally and figuratively.
Recognition of the Past
He is indebted to his small town upbringing, and has established the head quarters of his company in Bhilai. It helps him stay close to his roots, where he had first discovered the magic of the market.
He has appeared as a financial expert on various news and business outlets like CNBC TV 18, Money Control, Times of India, India Infoline, and Zee Business, and plans to continue such work as long as possible.
As a You Tuber he has received two Silver Play Buttons for his honest and fair market commentary. He has also received the Fair Play Award from GROWW for reaching one lakh subscribers.
Expectation of the Future
Ankit has big plans for the future. He is eager to grow his company to the best of his ability in every way possible. He wants to expand his advisory and philanthropic work, with a focus on bridging income disparity.
He is also setting up a common fund through his company, where people would be able to invest their money. This collective fund will then be used as a pool in the market and provide returns to the investors as and when earned.
In other words, the Bull is raring to take the market for a run.
Website: https://www.ankitintrinsicvalue.in/
Related Article Read More: KRITIKA YADAV, CFP (USA) – The Successful Investor, At The Top