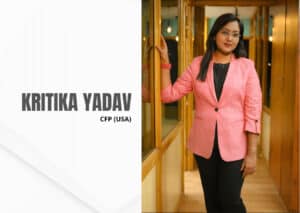 Admired as, wonder woman of stock market, Kritika Yadav, CFP (USA) is a well known financial planner & founder at Market Maestroo Pvt Ltd.
Kritika Yadav is the only CFP (USA) in state. In her life Kritika faced massive ups and downs. Let's relook the one of most exciting journey of Kritika, who is now one of successful stock market investor. The journey of Rags To Riches which is a full power house of motivation & inspiration of youth. The Cinderella kind of fairy tail story.
The journey of a middle-class woman to reach the sky heights of success. The first women CFP (USA) in her state & a successful investor.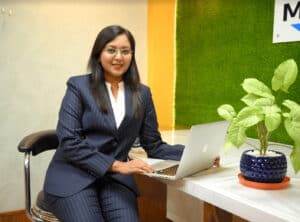 Kritika initially belonged to a very middle-class background & a city of Bhilai, which is a small town if we compare it with other developed cities, as facilities are very limited there & Bhilai is majorly known for its steel plant. After completing graduation, Kritika's expertise gradually turned towards the stock market, reading online articles, the latest news & books related to the stock market.
She then finally decided to do CFP ( certified financial planner) exam, which is one of the toughest exams on the globe, almost as tough as the UPSC exam in India.
CFP (USA) is a gold standard of excellence in financial planning & is a prestige as there are only 1800 CFP's in India & in the state (C.G) from which Kritika belongs, there are only 3 CFP's. with hard work & extreme enthusiasm, Kritika after 2 year finally completed her CFP. After achieving CFP , she is now the only CFP (USA) in her state.
After achieving success, she wanted others to be successful like her, so she started her own YouTube channel, "Kritika Yadav" which has over 6 lakh plus subscribers. After achieving success in graduation, education & now Educatorship. Kritika wants some more recipes in her life & she finally decided to become an entrepreneur.
She then, along with Mr.Ankit Wealth Manager (USA) of Market Maestroo, gained a lot of popularity & has its own operation with over 20 crore + impressions. At the sky reach, Kritika has her expertise in education, educator & now entrepreneur. Also Kritika is regarded as a well-known investor in the stock market and is popularly known as the "Wonder Woman of the Share Market."
Presently, Kritika Yadav, CFP (USA) is functioning at Market Maestroo Pvt. Ltd & working in the field of rural financial literacy & development. She is working for women in rural areas to make them financially independent. Her videos can be caught on her YouTube platform "Kritika Yadav".
So this is the journey of a woman who belongs to a middle class family and gotvery little support from her family to reach the sky high's success in her careerful .
She never gave up, always dreamt big & now setting an example for other women. There is literally no doubt about the wonder women's work done by this super wonder woman Kritika's & eventually her shoes will be very hard to fill in the coming time.
Read More: ANKIT YADAV (WEALTH MANAGER USA) – The Famous Stock Market Shark Investor