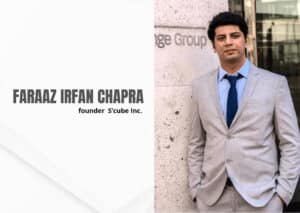 Faraaz Irfan Chapra who founded S'cube Inc. a research and market analysis firm at the age of 21 now runs one of the more popular new age financial services firms Chapra Capital Ventures. The company came under the spotlight after its huge tussle with BIMS back in 2020. The company thereafter is involved in multiple IPO's ranging anywhere between
100-5000 crores. Also, the companies AUA has grown from 400 to 2091 crores including that of their investment management firm Sirius A Securities.
Born in 1996, the young entrepreneur is marked amongst the top 5 entrepreneurs to look out for in 2022 by a famous publication. The company is also regarded as one of the fastest growing enterprises in the business in multiple magazines.
Faraaz Chapra is often spotted driving very fancy cars, his rumored car collection which includes cars like the BMW Z4, Mercedes SLK AMG, Audi A6, Porsche Macan and Jaguar F-type is worth anywhere between 2-5 Crores. He often takes on the social media to flaunt his watch collection which include multiple watches like Rolex's, Audemars-Piguet and Patek Philippe's. FYI prices of some of these watches will literally blow your mind.
The soon to be "Economist" holds a large size personal portfolio, constituents of which aren't very well know however his social media indicates a bias towards Finance, FMCG and Automobile industries currently.
Chapra capital Venture has also reportedly invested in multiple start-ups in the education and fintech space.
What's Next ??
The Company is all set to roll out 3 IPO's starting in June 2022, Also the company has rumoured to have acquired an broking business in order to tap into the retail broking space.
The company currently led by Irfan Chapra also is working towards developing their fintech Super App which caters to the small ticket investor.
Read More: KRITIKA YADAV, CFP (USA) – The Successful Investor, At The Top