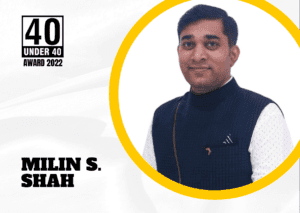 Mr. Milin Shah is one of Sarom's directors and is responsible for the company's administration and furniture market business. He has worked in the home furnishings and fabrics sector for more than 30 years. For the first time in the Indian market, he was the driving force behind the launch of the "cut-length service." What makes him exceptional is that he has elevated the furnishing industry's business by displaying Sarom fabrics in all reputable stores across India, which has enabled all furniture retailers to provide better service to their customers. This idea generated annual growth of 25% to 30%.
Sarom, established in 2007, is currently the largest furnishing trading company in India. Mr. Amarshi Shah and Mr. Shantilal Shah, the company's founders, paved the way for it to become one of the most respectable, forward-thinking, and reputable companies in the furnishing industry with 30 years of retail expertise.
Today, Sarom Fab Pvt. Ltd. is present in all the premier and well-known stores throughout 200 cities and more than 1,000 outlets, and is now a household name in the Indian home furnishings sector and attributes its success to its continued dedication to high quality and dependable performance. They take pride in their service and distinctive selections in addition to offering good discounts and wholesale prices.
Inception of Sarom
The two brothers, Mr. Amarshi H. Shah and Mr. Shantilal Shah put up a small textile display for the wholesale market in the late 1990s, which was the first time the seeds of Sarom were planted. Before opening a storefront in the Mumbai suburbs, they acquired clients gradually. In 2005, they introduced a collection of self-edited home textiles under the name Sarom. The establishment of Sarom as a Private Limited company took place in 2007.
It was Mr. Shantilal Shah who created the first fabric hangers, which are large pieces of fabric with a variety of color possibilities attached to a hanging hook. The feedback was fervent and extremely positive. The stores realized they could offer their customers a variety of options because they were no longer required to maintain any inventory.
Sarom dream team: 
Amarshi Shah & Mr. Shantilal Shah – Founders of the Company.
Manish Shah – looks after new development of fabrics & trends.
Rohit Shah & Mr. Deepak Nishar – looks after the Retail Furnishing Stores in Domestic & International Market.
Milin Shah – looks after the Administration and Furniture Market Business Domestic & International.
As Sarom started to gain a better understanding of its clients and the market, this was a drastic move and a learning curve for the company. Milin aspires to constantly expand Sarom's vision to achieve an unrivaled level of client satisfaction. They genuinely believe that every customer deserves the same attention and consideration. With this mentality, they distinguish themselves from the competitors and win over their clients.
Milestones
Since the inception of Sarom in 2005, they embarked on the journey with more than 1,000 SKUs and 500 dealers on their roster. The company also took the initiative and was the first to bring "cut-length service" to the Indian market. In India, it has since become a trendsetter.
They become the go-to company for all home furnishing requirements between 2010 and 2015. During this period, with 4,000 SKUs and over 100 product catalogs annually, they had 2,000 dealers on their network.
From 2016 to 2021, they released 200 product catalogs a year with 10,000 SKUs, and they had more than 4,000 dealers throughout India. In 2021, Sarom Fab Pvt. Ltd. was recognized as one of the pioneers, trendsetters, and industry leaders in our nation's home furnishing solutions market.
Standing today, Sarom has a broad selection of stock that meets all client needs by providing a choice of textiles and upholstery with a touch of finesse. They are constantly upgrading along with the dynamic customer and market needs since their goal is customer pleasure. Owing to their exceptional service and a vast selection of colors and designs, they have earned a stellar reputation. As they continue to leave their mark in the Indian furnishing industry, they hope to expand in the near future and go global. Milin encourages aspiring entrepreneurs to never give up and keep working hard since it is only then that their dreams will materialize.