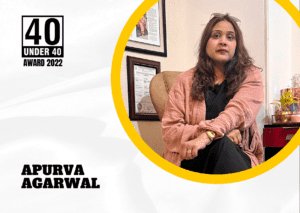 A small-town girl from Mawana, Meerut, Apurva Agarwal is a fashion designer and founder of Outre Couture, a big-ticket fashion and lifestyle brand which caters to the international market.
Her other ventures include:
Her Oomph Design Pvt Ltd a lingerie and nightwear manufacturing company, started in 2020
Wild Eyes Textile Pvt Ltd, an Australia-based brand for sustainable fashion and resort fast-moving apparel, started in 2022.
Coming Season, which she recently launched in 2022, is an Indian manufacturing company dealing in the export and import of home décor and furniture products for international brands. 
Inception:
Started back in 2015, Outre Couture was launched with a vision of making it a one-stop shop for all business needs starting from product design and development, manufacturing and production control, to hassle-free shipping worldwide. Rightly so, this fashion-inclined brand has come up with a product range of 2000+ ranging from garments, bags, and handicrafts. Outré Couture aims at accelerating your supply chain via swift technology and fast production while ensuring quality services. "We started the company on zero investments", says Apurva and further tells how she had to strategize continuously in order to achieve a global status in the ever-changing fashion industry.
Impact:
Due to Apurva's constant efforts and the zeal to make an impact, Outre Couture got shortlisted as one of the "10 Best Fashion Startups in India 2020" in Ceo Insight Business Magazine and also got selected as Company of the Year 2020 in The CEO Story.
Apurva has also been able to expand her business by building branches in the USA and other several countries.
Personal insights:
Being a small-town girl from a middle-class family, Apurva too started small and had her fair share of ups and downs. During her mid-twenties, when she was just stepping into the world of business, she faced a lot of challenges as people did not believe in her vision of incorporating technology into business. But her zeal to bring about a change and make an impact took her to heights. She believes that "Time is Money" and opportunities should be used to their fullest extent. Her outlook has set her apart and emerged as a successful Entrepreneur in a very competitive and shifting era of digitization. When businesses were incurring losses during the pandemic, Apurva turned the lockdown period into a boon by expanding her business through the inception of a new Australian-based company launch named Wild Eyes Textile PVT LTD. What is amazing is that her organization is composed of 90% female employees as she believes in empowering women and changing their lives.
Achievements:
Apurva was the recipient of the Best Designer And Collections Award in 2012, proposed by Pearl Academy Institute, New Delhi.
Apurva visited Intex South Asia Show in Colombo, Sri Lanka 2018 and got featured in Sri Lankan newspapers.
Apurva was honored with the Best Young Women Entrepreneur Award 2018, by eGrowth and the federation of Buying Agent.
Weavers- South India's Premier Textile Fair also conferred her as a Fashion Forecast Speaker behalf of "Buying Agents Association", on 28 November 2019.
Vibrant Terry towel- Global Export & Summit honored the Founder as a Fashion Forecast Speaker "Buying Agents Association", on 26 September 2019.
Nominated In 2020 Feb Edition: Magazine "CEO Insight Magazine"- "Top 10 Fashion Best Company In 2020"
Nominated In 2021 March Edition: Magazine The CEO Story- " Top Proud-women Boosting Economy During Covid-pandemic"
Featured in several International News Media and participated in various International Export/ Import Fairs.
MTTV has nominated her as the Iron Lady of the year, 2022.
A promising future:
In the upcoming 5years, Apurva aims at opening branches in 12 new countries and upscale her business by becoming one of the biggest designers and manufacturers of lifestyle products.