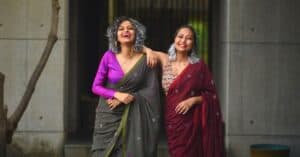 Suta is the thread that connects the two Biswas sisters. Sujata and Taniya began their textile venture by literally bringing their names together, and the result is the acclaimed apparel brand Suta, which is the Hindi and Bengali term for a thread. It is also the Sanskrit term for a child or offspring. A fitting coincidence, considering it is the combined brainchild of the two ambitious entrepreneurs.
Born to a railway employee father, the two siblings had a vagabond childhood, moving from one state to state and school to school, which had deepened their interpersonal bond and love. So as grown ups, their career choices reflected each other, as they both pursued engineering from acclaimed institutes, before doing an MBA to help realize their business dreams. After that, they were soon employed by arge corporate houses which stationed them both in Mumbai.
It is while staying there that they realized their discontent with their corporate jobs and began exploring other avenues of livelihood.
Although their childhood was transitory, the two women consider Bhubaneshwar their hometown. On one of their trips back, Sujata had the opportunity to communicate with a few local weavers and was made aware of their professional and financial woes. The work was sporadic, and payment was hard fought for. The siblings were concerned by the dismal situation of the artisans, and wanted to help them in any way they could. That is how the needle for Suta was threaded.
Read More: Becoming a Better Egg: The EVO-lution of Shraddha Bhansali
Sujata and Taniya had been lifelong saree afficianados, and they decided to launch a venture that would sell beautiful, solid coloured sarees to be worn by young women. This idea was scoffed at by people, as sarees were not considered something that the younger demographic were interested in.
The journey of Suta was arduous and adventurous. The sisters travelled from village to village, initially in West Bengal, trying to convince artisans to weave sarees for them. Their initial demand was of solid coloured cloths without any designs or patterns, which most of the weavers were unwilling to make. Patternless cloth was considered the sole domain of widows, and very few weavers were engaged in making them. Finally, they managed to contact some of them, and their venture took off.
It was only the two of them at first, maintaining their dream endeavour after working full time jobs. It was a tiring and difficult time, and they stumbled more than once during that time. But they carried on nonetheless, and finally by 2016, the venture had found enough success for them to quit their day jobs and focus on it full time. At that time, they had a single employee in charge of packing and labeling, and two weavers working for them full time. Currently that number has ballooned to 150 employees and a network of over 16000 weavers.
So how did they accomplish this?
With a lot of grit and gumption, sure. But also with an immense amount of love and care for both the weavers and their customers (Suta Queens, as they have been christened). Suta makes sure that the weavers are paid immediately, if their product passes their admittedly stringent quality test, regardless of whether it sells or not. Minor defects, like visible sewing lines, are upcycled by block printing over them. In case of major defects, a small amount of money is deducted from the weaver's payment, and the sarees are kept aside to be taken apart and woven back into Khesh sarees.
In fact, upcycling has been made an integral part of their business through the Suta Earth venture, where they collect old sarees from customers in exchange for discount coupons, and make them into bags.
The work culture of Suta is a reflection of Sujata and Taniya's humane philosophy. They aim to make the world a better place, and are trying to use their business as a platform to accomplish that. During the lockdown, when work was scarce, weavers from many corners of the country approached Suta, knowing about their above market rates, and prompt payment. And Suta was more than happy to bring them on board. SInce the inception of the business, the two sisters have travelled across different states, employing new artisans. And their polite and professional behaviour has won them loyalty from everyone involved.
Like the mother daughter duo of The Indian Ethnic Co, Suta has been a relatable endeavour. Both customers and workers have been able to find themselves reflected in their beautiful designs and passionate founders. Their products, which have expanded from only sarees to include dresses, kurtis, men's wear and more, were initially modeled on Sujata, and photographed by Taniya. But since their burgeoning success, the photos of Suta Queens have been used to promote the products. The collections are imaginatively named, with inspiration ranging from modern pop songs to classical ragas. Every post on their social media is accompanied by a story that situates their picture in a dreamlike reality, where the models become real people rather than just bodies to showcase the products.
Writing about Suta gives me hope.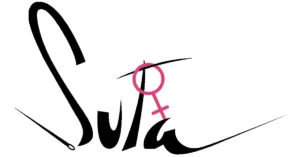 Knowing that there are people intent on making beautiful things, preserving the clothes and culture they love, gives me hope. Knowing that they treat all of their employees with respect, and go out of their way to accommodate their needs, gives me hope.
Hope is a hard fought thing in this world. So I wish them all the best for the future, along with a heartfelt thank you.