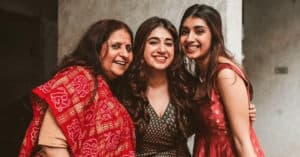 The Indian Ethnic Co – In the Desai household, the two sisters Lekhinee and Twaraa, were always averse to buying readymade store bought clothes. The designs on display didn't appeal to them, and neither did the quality of the fabric. Thankfully, their mother, Hetal Desai was a designer par excellence. Although a student of Home Science, Hetal had an eye of design, and a passion for fashion. So the siblings could always depend on their mother to whip up gorgeous dresses for them, which were lauded by onlookers everywhere. 
As her children grew into their own, Hetal was looking to diversify her interests and activities. Inspired by Lekhinee's suggestion, she invested their total savings, amounting to about 50000 rupees, in Ajrakh fabric, and designed a few kurtis. The year was 2016 and e commerce was beginning to gain traction. Giants like Amazon and Flipkart were hitting their stride, and smaller startups like Nykaa were becoming popular. So the decision was made by Lekhinee to market their product on social media. And within a couple of days the clothes were sold out.
Thus The Indian Ethnic Co was born, functioning out of the bedroom of the founders, the two sisters and their friends serving as the models for all the beautiful dresses Hetal Desai created.
The company was already making quiet waves in the apparel sector, but it caught the eye of the larger business crowd with the launch campaign for their line of sarees. Lekhinee and Twaraa being trained Odisi dancers, they were encouraged by their parents to post a dance video while wearing the sarees to demonstrate their comfort and mobility. So the two siblings and their friends made an Insta-reel, dancing to Kangna re from Pehli. It went viral within moments. They have been using this ploy to market their sarees since then. It has gotten them noticed by the authorities of Meta, who use them as a case study.
Read More: Becoming a Better Egg: The EVO-lution of Shraddha Bhansali
The growth of Indian Ethnic Co has been gradual but consistent. In 2018 they launched their website, which was created and curated by Lekhinee, who manages media and marketing, and engages with the customers. Hetal is the one who sources all the fabrics, and designs the clothes. It is the combined force of both their passion and energies that has made The Indian Ethnic Co a company worth 15 crores.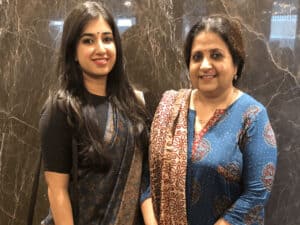 Their functions were affected by the advent of the pandemic, as Hetal was unable to travel in search of skilled artisans and good fabric. Delivering goods also became an issue. However, the founding duo refused to stop paying their workers, helping them tide through the tough times.
It is this ethical and humane approach to conducting their business that Lekhinee credits as the reason of their success. The beautifully designed vibrant clothes are all modeled on the everyday bodies of Lekhinee, Twaraa and her friends, giving their presence an authenticity sorely lacking in the fashion industry. Their happy and unselfconscious presence radiates the comfort that the clothes offer. Seeing the range of their relatable features and figures in natural poses makes the clothes and the brand a more relatable presence to the customers.
And there is no shortage of variety either. The clothes being sold range from kurtis and sarees to kaftans and dresses, all available in an array of natural fabrics and beautiful tie dye patterns. The patterns and designs are not restrictive but complementary, allowing buyers to mix and match the clothes as they desire.
The Indian Ethnic Co has expanded their base of operation to three office rooms now, but they have no plans to move to an offline business anytime soon. Instead they intend to transform their website into an encyclopaedia of Indian crafts, where visitors may both gain knowledge about its diversity as well as purchase things they find attractive.
Although neither Hetal nor Lekhinee are formal students of fashion or design, they have become an interesting and integral part of India's apparel scene. Aided by Lekhinee's managerial skill, The Indian Ethnic Co has soared from success to success, dressing all of India in Hetal's beautiful designs. And we pray that they continue on this path, remaining a brilliant gust of wind to the sails of the indigenous artisans, and their crafts.