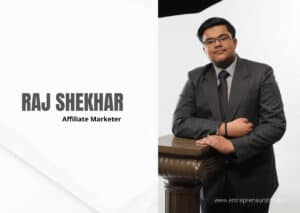 Take a look at the journey of Mr. Raj Shekhar Ganguly, a very dedicated and ambitious person. A very open-minded person and believes in Hard work. He hails from Varanasi Uttar Pradesh. Currently, he is pursuing his matric. He is just 16 years old but what he achieved is marvelous. He has a lot of experience. He aspires to become India's top entrepreneur. He was interested in business from early childhood. But at that time there was no such thing as the internet from which he can learn. He belongs to a decent and good family. His father is a Doctor. But he wanted to do something for his parents. So from there, he started his entrepreneur journey.
He worked in various fields like amazon affiliate and he also did Blogging and freelancing. He gained good experience from there. Then he started his business in affiliate marketing. Initially, it was completely new for him. But he learnt about the business and then started the business. And after that he never looked back. He earned a good six figure income in just 3 months from this business. And his dream was to buy iPhone with his own money which he bought a few days back. At the age of just 16, this is unthinkable but he did it. He mentored more than 450 people and helped them achieve their dreams.
But all his achievements come at a cost. The whole journey was not so easy he faced many problems. When he started his business his friends told him that this is a fake business and this is illegal many of his relatives were against him but he was confident and today he proved everyone wrong with his achievements.
Read More: Becoming a Better Egg: The EVO-lution of Shraddha Bhansali
He says it is very important to do something rather than sitting idle. If we start doing something then initially we may be not so good but when we keep doing the work then we became master of that works which will help us to achieve dreams. He believes it is very important to addict oneself with good things instead of bad addiction. We should enhance our learnings and work on ourselves to make better version of ourselves.
He believes that criticism is very important for our growth. He advises to take critisism positively so that we can improve ourselves. He also do charity like donating books to children. Also providing food and clothes to poor people.
Raj Shekhar Ganguly is a successful digital entrepreneur today and is guiding a lot of people to make money online. If you too are entangled in your life, how to find and work on a new opportunity in this great time. You can message Raj Shekhar Ganguly on his Instagram.