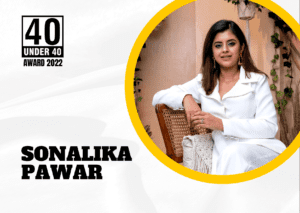 Sonalika Pawar is a marketing and communication prodigy with a flair for hospitality and is a seasoned public relations professional and communications expert who has worked with some of the most prominent businesses and names across numerous industries and sectors. She is well recognized for her contributions to the hospitality sector and for launching iconic venues and properties in Bangalore.
Having earned a degree in mass communication and media studies from the Centre for Management Studies at Jain University, she had always known that brand and marketing communication was where she would succeed.
Force of nature
After working for several companies and agencies, including Madison and the Marriott Group of Hotels, Sonalika eventually decided to launch her own creative agency. During the pandemic, she founded Meraki Creative Inc., making her one of the up-and-coming new-age entrepreneurs.
Sonalika's company, Meraki Creative Inc., provides solutions for all aspects of brand communication, from creating identities and logos to conducting intensive press campaigns and public relations to guarantee that emerging brands have an equal and strong vantage point while entering the market and sustaining.
As a result of her outstanding professional connections, media connections, and stellar reputation, Sonalika's company, Meraki Creative Inc., is regarded as one of the best creative marketing agencies in Bangalore. Under Sonalika's leadership, the company has launched more than 15 brands and provided services for close to 35 brands in less than a year. Sonalika is a force to be reckoned with and her events are regularly regarded as a must-attend in Bangalore.
Her company now consists of three wings: Public Relations and Brand Communication, Social Media and Performance Marketing, and Creative Design Solutions.
Inception
During her work experience with various companies and brands and while working as a consultant, she discovered that it is challenging to align several things together. This is because working with multiple agencies on one project necessitates dealing with numerous people and conversations, which can occasionally result in a lot of miscommunication and cause a delay.
Meraki Creative Inc. was founded to bridge that gap and serve as a one-stop shop for brands in need of PR, Social Media Management, Influencer Marketing, Digital Marketing, branding, or help to launch their brand.
Impact
The most important achievement is the reputation the company has built and the number of brands that have been served in the past 18 months. The company served a number of significant companies in the past, including Furlenco, Heads Up for Tails, SteppinOut, Andaz, Hyatt Group of Hotels, Hilton Group of Hotels, and numerous others.
Work-life balance
Sonalika enjoys reading about hot-button issues executed by various brands in her free time. She enjoys working out and is a firm believer that self-belief and positive thinking can help us actualize our goals. Sonalika also enjoys traveling and trying new cuisines and libations, and is also known as the hostess with the mostest since she adores entertaining friends, family, and loved ones with delicious food and drinks.
Lessons learned in the 20s
Sonalika has learned in her twenties that getting started early is important, even if doing so means feeling lost at first. She opines, "achieving your dreams will require a lot of sacrifices. The sooner one learns that the better. Always be a go-getter and never let an opportunity slip out of your hands because every opportunity makes you take a step forward."
She also reckons that if one wants to be recognized and known, one has to work hard for it, and encourages young entrepreneurs to be more driven and passionate because this is the age when one has the liberty to experiment and explore and have fun while you are at it.
Challenges
Sonalika reveals, "starting the business was never something that I thought was difficult for me because of the kind of networking and circle I have had for over the years but to sustain and to keep the momentum going is what is challenging." She believes finding the perfect team of individuals who share the same mission and are equally motivated to work hard and grow both the company and themselves is challenging.
However, what motivates her to keep going is having the chance to work with so many different brands in such a short amount of time. Sonalika is motivated to face challenges and achieve each milestone with greater vigor and strength when she sees the faith that people have in her and the company.
In some years, the company envisions expanding its horizons and becoming more internationally recognized. Sonalika advises aspiring entrepreneurs to explore and gain more knowledge before undertaking any venture. She adds, "be a part of numerous projects, understand the good and the bad, the way the industry functions and then understand what is your domain of strength. Having a clear vision of your dream is what takes you ahead and helps you achieve and become a winner."