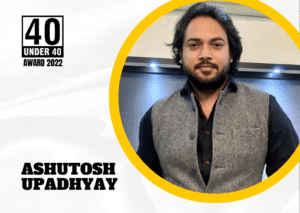 A lesson Mr Ashutosh Upadhyay has learned in his 20s is to have an open mind toward new opportunities in life. He Believes One Should not be afraid of sailing the trendy tides and taking calculated risks. He is a first-generation entrepreneur with more than ten years of experience in sales, client handling, and customer service. At the Age of 26 he laid the foundation of his Company- "Effizent". Today Effizent Provide sustainable Earning Opportunity to 25000+ Individuals in Tier-2 & Tier-3 Cities.
A Divergent Thinker with eagerness to make a difference.
According to Mr Ashutosh-In this Era of Globalisation & Modernisation we should work towards upliftment of our satellite Cities & Villages. He always wanted to work on something that would address a problem, anything that has an impact on the lives of Millions. Therefore, when GST was introduced in India, he recognized an opportunity and seized it.
His company, Effizent Seele Pvt Ltd. , founded in February 2018, is an ISO-certified business and India's top network for compliance, banking, and digital services. As part of its B2B2C business strategy, Effizent collaborates with local retail stores, entrepreneurs, teachers, and self-employed individuals to equip them with the resources they need to offer digital and financial services to small business owners and local communities. The goal of Effizent is to provide financial services to everyone, everywhere. As it transforms the lives of its retail partners and customers, the firm strives to make high-end technology simpler so that it may be quickly adopted at the last mile.
Effizent currently serves 17 lac+ consumers nationwide through its 25000+ Active GST Center Owners located in 28 states and 8 UT. Through a B2B franchise model, they offer compliance services, e-commerce, and digital marketing services.
Impact
They now have more than 25,000 franchise locations across the country that serve as "GST Suvidha Centers" and successfully help turn company ideas into operational businesses. They also served over 17 lakh delighted customers and are an authorized Mudra Yojna application supplier in all of India. Additionally, they offer 450+ services to clients like Amazon, Flipkart, and others, spanning from compliance to e-commerce.
The objective of "Effizent Digital Centers" is to enhance creative communication and foster progress at every stage. From upholding a harmonious relationship with current and potential customers to continuing to expand their services, they have never failed to demonstrate progress and flourish as the best GST service providers. They also assist franchise business owners in filing GST returns and promptly offer the best GST-related services.
Serving more than 17 lakh clients over the years, today, Effizent continues to stand strong owing to the excellent work of the reliable owners of 25k+ GST Centers. They continue to provide solutions to Small Business Owners Starting From Compliance, Loans, E-Commerce, Aayushman Bharat Card Distribution and 2000+ Seat Backend Support Call Centers with Locations in Pune, Delhi, and Varanasi.
Seizing the opportunity
Things, however, did not look so bright always. When the pandemic struck, it was the most challenging period for them. Mr Ashutosh says that because their company is entirely dependent on market operations, it was difficult, but the best thing that came out of the circumstances was that they made their processes digital, which allowed them to scale even more rapidly. Since then, their franchise partner has expanded to include services and products.Today Effizent Digital Centers are One Stop Shop for Business Owners Pan India. They are not only Helping Small Businesses to grow but creating earning opportunity for youngsters locally.
For his company, he envisions and hopes for a global presence with the largest offline franchise network for compliance and e-commerce services in seven years. He also reckons that the upcoming decade is one of collaboration. He encourages entrepreneurs to look around for potential collaborations and to grow together.