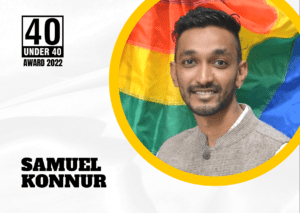 Shyam Konnur, who was slated to represent India at Mr. Gay World 2020 in South Africa, adds, "During the pandemic, we observed how difficult it is for a trans person to access health care". In his speeches, Shyam has frequently emphasized that one of his goals is to combat discrimination, both within and beyond the queer community, while also ensuring they realize that they have "allies."
Rainbow Mist
Shyam Konnur is the founder and director of Mist and "Mr. Gay India 2020" (an online collective of LGBT activists from all over India). Mist aspires to unite the LGBTQ and ally community and highlight their untapped abilities. Shyan has been battling with his sexuality since he was a teenager, but back then there wasn't enough awareness or readily accessible information to help him. It took some time but he was aware of his sexuality despite the mob mentality.
Samuel Konnur, who goes by the name Shyam Konnur in public, is one of the leading voices in the LGBTQIA+ community in Pune and throughout India. He founded the Mist LGBTQIA+ Foundation to foster a secure and enduring environment for the community. The 32-year-old Mr. Homosexual India 2020 winner, an out and proud gay man from a small town in North Karnataka named Sindhanur, began his journey of working for the queer community on the day he came out to his parents. It was in 2014 when Shyam learned about Mr. Gay India, the biggest beauty competition for gay men in India held by a franchise of Mr. Gay World.
The collective challenge
One thing that set Mr. Konnur different from the usual Indian throng was his sexual orientation. However, he eventually accepted that "being who you are" is okay. Soon he also understood that hundreds of individuals are out there fighting for the same thing—struggling to be accepted for who they are. It was then that Shyam Konnur decided to take the reins of change-making for good and founded Mist.
Since then, Mist spearheaded the Making LGBTQIA+ India Digital which aimed at providing website spaces for small CBOs and NGOs for free.
Shyam has made a name for himself in the fields of queer rights, diversity, and inclusion. From winning the 101 Diversity and Inclusive Leaders Award in 2019 to receiving a prize from the National Congress Party in 2021 for his work on behalf of the LGBTQIA+ Community, he has numerous accolades under his belt.
Impact
In his formative years, growing up, he has asked himself the same questions that most LGBT kids and teens do, Shyam frequently wondered, "Am I different?" "Why do I not find girls attractive?" Why am I different from other boys? "Why do boys interest me?" etc. However, through his struggles to "cure" himself and the eventual discovery of his true identity, Shyam has inspired not only the queer community to accept their identities with pride but also everyone who has experienced social rejection.
Shyam is attempting to give the gay community a platform for expression through Mist. Neither do they have sufficient access to healthcare facilities nor do they have the safe space to exercise their fundamental human rights. Shyam has been fighting for the government to enact such facilities while ensuring that LGBTQIA+ individuals have access to healthcare and insurance. To strengthen the community and celebrate life's happy moments, it aspires to unite the LGBT and ally communities. It offers a space for learning, sharing skills, and joining a bigger, all-inclusive family.