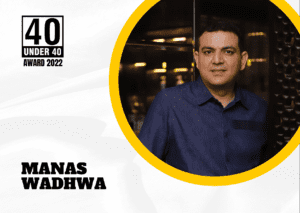 Characterized by unwavering determination and a "will to achieve." Manas is a self-made, veteran entrepreneur who overcame all tribulations and is now an owner of multiple leading restaurants in Delhi NCR and a firm focused on cutting-edge technologies. Meet Manas, and you'll meet an extraordinarily passionate and loving person who never stopped dreaming and turned them into a living reality.
Ace of all aces
Manas was a college dropout who had an absurd journey to get where he is now. From starting his first job in a trade show to working for an event management company to a short tenure in a call center, working for an MNC after that, and finally getting a job as a cabin crew with Jet Airways, he never lost sight of his goal.
Driven by chance, Manas found his business partner when he least anticipated it. Manas met Varun Khera while working as a flight crew on one of his flights. The two jet mates had a casual, lighthearted talk about their entrepreneurial aspirations and quickly realized they were perfect to work together toward their goals.
With a passion for creating something of his own, it was in 2005 that he quit his job and opened the first restaurant, Desi Vibes, in Sector 18, Noida. Today Apart from Desi Vibes He Runs Many Other Popular Restaurants in Delhi/NCR.
His most recent endeavor, the wedding vendor search portal- Weddingplz.com, has established a market for itself. Manas became the Co-founder & CEO of WeddingPlz, which facilitates the discovery of everything related to weddings, from goods to services. It also assists the soon-to-wed couple in streamlining and arranging their wedding preparations with ease. Although he is best known for his work with Weddingplz, it was only because of his love for technology that he founded a Leading 360 Virtual Tour Company (named Virtual Space InfoTech Pvt. Ltd.), which is now counted among the top Virtual Tour companies in India and has some of the most coveted brand names under its client list viz. Max Hospitals, Amity University, Mercedes Benz, etc.
A trail of success
Eventually, Manas launched Desi Vibes in 2005. In addition to Desi Vibes, Manas owns multiple fine restaurants and cafes like Kaffiiaa-Italian Cafe, Ka Eclairs, The Imperial Spice, K Se Kulcha, and a first-rate catering company that has catered to the best corporates in Noida and Formula Fl Racing- Gr8 Catering Co.
Manas considers one's twenties to be a time of vulnerability and exploration. The most crucial lessons he acquired in his formative years were never to give up and that it's alright to dabble in other fields and gain knowledge of the unexplored.
He shares, "I felt lost and uneasy in life, but I always learned from my mistakes and kept moving ahead. Finally, after experiencing several ups and downs in my career, there came the point where I got some clarity about where I was heading. It's quintessential to know what you want to be in life and be passionate about it after that. Dreams come true, but they require you to have 100% determination toward your goal and never give up attitude."
Impact
In addition to being a phenomenal entrepreneur, Manas excels at relationship development and human resource management. And because of his tremendous commitment to his restaurant, it has received numerous accolades, including "The Best Indian Restaurant In Noida," "Best Butter Chicken Award," and "Best Family Restaurant Award." and many more..
Last but not least, the Economic Times recently presented him with a 40 under 40 award in the F & B category.
Trying times
Manas reveals, "The path up till here wasn't easy, but the never give up attitude helped me pave the way through all odds. I was 22 when I decided to plunge into a risky pool and took multiple loans to start my first business. "
Being an entrepreneur requires accepting ambiguity and being at ease with constant challenges. To Manas, it seemed absurd to choose this career route because the chances of success were slim, but perseverance, unshakeable belief, and laser-like focus eventually led to his success. The early years were both the hardest and the most motivating since he learned to identify and overcome his mistakes while battling his demons to grow and become who he is today.
With decades of experience and learning, Manas looks forward to more opportunities to expand his network of contacts, knowledge, wisdom, abilities, and competence. His advice to aspiring entrepreneurs is to give it your all -100% in anything you do, want to, or dream of doing.