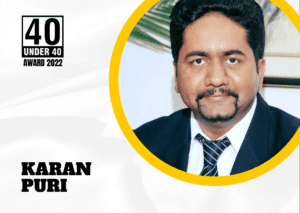 For Karan Puri, the process began with the discovery of a passion for writing. It came much later in life, during his higher education in the USA. But he didn't immediately pick it up as a professional skill. Instead he joined the corporate world, and worked as a marketing person in multiple big name brands like Coca Cola, Zee network and Ernst and Young. His work was primarily in retail and business development, but as he transitioned more into campaign designing and presentations, his knack for writing became increasingly apparent.
Finally, after a decade in the corporate work structure, Karan decided to venture out on his own as a freelancer in the content world, focusing on blogging about lifestyle experiences. His skill quickly landed him a series of jobs with different organizations. After his stint in the corporate world, he took the plunge joining a startup as a cofounder in 2018 with an online lifestyle startup in Gurugram having youth icon and actor Rannvijay Singha as a brand ambassador. His independent brand grew bigger with an ever increasing coterie of writers and content creators who would be situated in different cities and in a better position to write about the cultural touchstones there.
His personal content firm was in full swing when he decided to fulfil his dream of being a fiction writer, and published a fictionalised account of his student life abroad, which became a best seller, and catapaulted him to national stardom.
Dis-Content with Corporate
While he wasn't unhappy working with multi-national corporations, Karan wanted a more creatively fulfilling life. So, when he quit his work in favour of being a content creator, he focused on writing about topics that interested him.
An inveterate foodie, he wrote about the best places to eat in different cities, often going into detail about the process of producing that food. He covered interesting chefs and their specialties, and where their work could be tasted.
His easy, humour laden writing style endeared him to a wide audience quite quickly, and he became an award winning social media influencer. He was invited by established publications like DNA India. He started writing about influencer and affiliate marketing for that platform, and delegated much of the work for his website to his coterie of content writers, who were handpicked by him to maintain the easy, relatable approach that signified his writing.
To hone his influencer image, he also became an active social media user, and started making didactic videos on Instagram and YouTube about popular trends and how to utilise them in pursuit of professional success in the content space. Having transitioned from the corporate space, he was also influenced by the idea of corporate social responsibility, and imparted interesting stories that he hoped would affect the world in a positive way. His father has always been an inspiration and the values that he has imbibed come from his giving nature. Even practically he regularly participated in social work, and awareness drives to do his due diligence to the society around him.
However his social consciousness would become most apparent with the launch of his second book, Me Too: A Collection of Short Stories which covered fictionalised accounts of real life survivors of sexual abuse and harassment from different walks of life.
Impact
Shit Happens! Desi Boy in America was his first book. While it was a fairly light read, he did begin his trend of trying to tie his narratives together with a message for his readers. In this case it was an encouraging vision of stepping out of one's comfort zone to reach a new level in life. The book was published and distributed by Prakash Books.
The Me Too movement shocked him with the ubiquity of sexual violence in the daily lives of women around the world. He wanted to explore this topic, and capture the narratives of people who had survived such ordeals. It was a difficult and intricate journey for the people to share their stories with him, but he managed to feel them as much at home as possible while discussing such disquieting matters. His aim was to give the stories a redemptive spin, allowing the survivors to release the guilt that often comes with being assaulted. He wanted to speak loud and clear out to perpetrators, how disgusting an act it was to impinge so violently into the personal space of any individual.
It saw predictable resistance from the publishing side, especially with the pandemic looming over the horizon. He was also busy with a reorganization of content for his website, which changed focus to tips on surviving the lonesome times of the lockdown. Thus, the book was first released on Amazon as an ebook. It found positive response from all circles, and by the end of the initial lockdown period, had found an independent publisher called Invincible. With the paperback version, the book reached the much wider audience it deserved, and was showered with critical acclaim, shooting him into an even bigger spotlight than before including best author awards by leading platforms.
He is currently working on children's book on food, in conjunction with a prominent critic. He wants to share his love for food, and the art of creating it, with younger readers, and hopes it will give them insight into the world of cooking and chefs, and even inspire them to pursue it themselves. He has a global publisher ready to publish this book, with whom he wants to rerelease his book of Me Too accounts, to give it an even wider platform for a more diverse readership. Content has always been his passion and recently he has been involved in working with a top creative agency with a digital heart that believes in the same philosophy of story telling through their work.
We at Entrepreneur's Today wish him all the best as he ventures into yet another stage of his life.