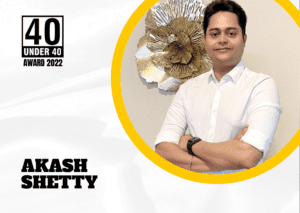 How to make the act of franchising into a business?
Akash Shetty comes from the famous Shetty family of Mumbai, who have been running a restaurant for the better part of fifty years. So he was no stranger running and maintaining businesses. He had spent running the family restaurant for a decade, before he decided to branch out on his own.
He began with a food delivery business, which coincided with the boom of delivery services that flooded the market. Despite being acutely on time, the business ended up a failure, with Akash losing money in the venture. Ever the pragmatist, he moved on quickly instead of weeping over spilled milk.
His next venture is what we are here to talk about today. Franchise 100 began its life as an infrastructure consultant set up that began helping new enterprises set up their businesses. But soon the focus shifted to a complete association between brands hoping to develop franchises and potential investors.
The Philosophy of 100 
The failure of the delivery business had left Akash with a financial loss. He realised that a delivery service was difficult to profit off of,  based on unit economics, and there was a continuous need to pump in new funds to increase valuation. Unwilling to engage in such precarious business, Akash staked his skill in management and business as the primary basis for his work.
Franchise 100 is named reflecting his philosophy of work. He assures his clients a cent percent success rate. The business owners could expect a hundred outlets being opened and successfully run in a year, while the investors could expect to have a 100 percent return on their investment.
Akash expanded upon his experience in the food industry and teamed up primarily with quick service restaurants, fine dining outlets, and fast moving consumer goods brands. The investors were primarily corporate officers who wanted to invest their savings and multiply their earnings, and were attracted by the glamour of the lifestyle businesses.
Franchise 100 basically leveraged their experience to entrepreneurs and investors and helped ensure profits on both sides. It was a leap in the kind of service being provided, for Akash who had moved from a physical food business to an aggregator model. But he handled the shift with elan.
Difficulties were of course myriad, not the least of which was the COVID pandemic which halted work on some franchises that were lined up to open, while other outlets were closed owing to lack of funds and customers. Akash had to let multiple people go, shortening his team from 9 people to 4.
On the other hand, the closing of multiple old businesses brought about an influx of investment for the brand from businesspeople who refused to start from scratch, and wanted to divert money into established brands, and wanted an assurance of success.
Thus the scales were strangely balanced for them, and Franchise 100 bounced back into full throttle glory quite soon.
Impact
The basic investment amount for each franchise that the brand had begun with was between 5 to 20 lakh rupees, which, over the years, has grown to a minimum investment of 25 lakh rupees. The types of businesses range from cafes and gyms, to tea and waffle makers, with brands like Shahi Darbur, Ice Cream Factory, and Brown Burgers under their belt. The prolific team at the Franchise 100 works with at least 40 to 50 brands in a year, giving each and every one of them their 100 percent. Since the Covid set back, the team at the brand has grown to about 15 members by next year, and is raring for further success down the line, with an aim to provide 100 crore rupees of business every single year.
When asked about the reason for his success, Akash credits his team for the dedication of their work, and the timely decision to automate major parts of their work. They have been able to forego outsourcing any work because of their sufficient digital dependence which has eased every aspect of the business, from sales to marketing.
Akash advises all new entrepreneurs to keep the hook tied to what they are doing, because the moment you lose it, you lose the game. He suggests moving with the times, as he has done with his decision to keep his team small and efficient, and the automation sufficient. And last but not the least, he wants aspiring entrepreneurs to embrace failure. After all, it's simply another step on the stairway to success.