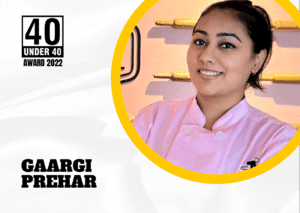 How to make a living by baking for pets?
Gaargi Prehar didn't know, that this was her calling. Before the idea for her pet-friendly bakery, Puplords, was conceived, she was working in the luxury fashion sector in Paris. But this was once again a job that didn't speak to her, and she left it, to return to Mumbai to start over.
During this transition, she discovered that her dog was suffering from a condition called, Celiac disease, and over his treatment, came to know about the gluten allergy that was common to many dogs.
Her initial pet-friendly bakes, were a personal attempt to bake tasty desserts for her own dog, and sometimes, his friends. She experimented with gluten-free products, to avoid allergic reactions in the animals. Soon she was receiving orders from other people who wanted her to bake similar desserts for their pets.
Sensing a demand for her specific service, Gaargi decided to codify her work into a business, & that is how Puplords was born.
 
An Idea in the Oven
Gaargi has always loved dogs. In fact, she always had dogs in her home, growing up. As a pet-parent, she soon fell into the rhythm of being a caretaker to his needs, and her life became set around her dog's routine. It became a respite from the hectic confusion that many of us embrace in our twenties, and she credits her experience with her pet, as a pivotal point in her personal development.
She was also a connoisseur of desserts, and other baked goods, and would try out new items from cafes wherever she went. Her stay in Paris was thus quite an adventure for her sweet tooth, as she sampled unique desserts from the innumerable patisseries strewn across the city.
The conjugation of these two disparate passions is what led her to opening her baking venture for pets.
Pets are intimately inculcated within the families they belong to, and the members want them to participate in festivals and celebrations in their own capacity. But the restrictions on animal diets means, that they are unable to partake from the same food that their families enjoy. Her efforts at baking doggie versions of human desserts for her own pet, lined up seamlessly with the demands of this cross section of the population.
She faced the predicament of her dog's skin problems, and the eventual diagnosis of celiac disease in 2018. It didn't take long for her to realize the demand that her services generated, and she subsequently figured out the logistics and licensing issues.
When Puplords launched shortly, the list of goods being served was limited. The primary focus was on cakes and cupcakes. But with the passage of time, and development of Gaargi's baking skills, the menu lengthened.
Impact
Currently the product line up of Puplords includes cakes, eclairs, macarons, doggie chocolates (made of carobs instead of cocoa), beverages, and even doggie bar products like alcohol-free rose, champagne and beer. In keeping with her previous experience with luxury fashion brands, Puplords has become a luxury destination for pet owners, who want their dogs pampered and spoiled.
Gaargi has gone through multiple ups and downs through her life, including losing her father at a young age, which took her months to process, and come to terms with. But she used his humility, dedication, and kindness as strengths in her own life to find success in the professional niche that she had carved for herself.
Her efforts have been roundly recognized from various organizations. PetFed awarded her the title of The Best Chef, while her entrepreneurial efforts have been recognized by Google and She The People. She has also secured a long list of influential clients that includes Bollywood bigwigs, without any need for a concerted marketing push. But she considers her biggest achievement to be the effort she undertakes to provide desserts to pet owners who are unable to afford her products. It is performed as an act of goodwill and love, emblematic of the care that all pet owners feel towards their adoptive children.
Puplords has allowed Gaargi to not only flex her creative skills, but also come to terms with the confusion of keeping up with the unhealthy competition of the hustle lifestyle.
Gaargi has vivid dreams for the future. Her approach to the business is sombre but analytical. She has been gradually scaling up her venture, and currently has her dedicated office space. She intends to begin serving freshly-baked-goods, and is looking to expand into a retail space within Mumbai in the coming months. Long term, she aims to have multiple retail outlets across different cities in India.
Looks like Puplords is ruling the roost, and is here to stay and slay.