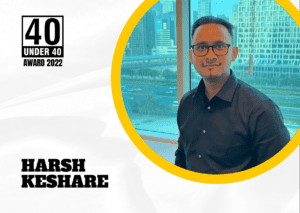 How to make the world better with Information Technology?
Technology is the pen with which we will write a new world.
As a teenager living in Khargone, Harsh Keshare loved technology. But it was an expensive love to have in the first decade of the 21st century. Cell phones were a luxury available only to adults and the rich kids, and Harsh was neither.
However, he was resourceful. He managed to source a second hand mobile phone for himself, on which he practiced his engineering skills. He soon realised that he was pretty good at it, and began a business of sourcing, repairing, and selling second hand phones. Not only did it help him learn the intricacies of electronic gadgets, but also the ins and outs of entrepreneurship.
As a minor he was unable to open a bank account, or get his business officially registered, which led to it fizzling out under academic pressure when Harsh joined RGPV University for a course in Electronic Engineering and Communication.
His zeal for entrepreneurship was reignited when he joined an up and coming start up company after graduation, as an associate engineer, and met Amit Dubey, who was from the same district as him. They bonded over their shared dreams of independent ventures and implementing world changing innovations in technology. But they were restricted by their work. Additionally, Harsh was pursuing vocational courses to boost his skill set, which left little time for anything else.
After spending a few months with the start up, Harsh and Amit both decided to move to larger institutes in managerial positions, which gave them a fresh perspective into the running of a business. Feeling that they had gathered enough experience and knowledge to finally begin their own venture the two friends leveraged their professional experience as  IT consultants in the emerging market and set up independent shop as a path to realising their dreams of entrepreneurship and growth.
It was back breaking work, as they returned from their full time days jobs, covering long distances, to their apartment from which they ran their own venture. But such is the impetus of passion and dreams, and the two men bore the hardship with pride.
Their venture went through several ups and downs, as is wont for a new company to do. Their office space was an informal setting, and the legalities of their registration were shared with other owners, which left them in a precarious position. Owing to his previous experience in business, Harsh knew that they would have to get their affairs in order soon. But the small team decided to work on building their reputation in the market as reliable consultants first.
It turned out to be a good idea, as despite changes in nomenclature, their company Dwellfox became a sought after consultant firm in no time.
Tiding Through Difficulties
The initial set up that Dwellfox grew from was sabotaged by a rogue partner, but the two founders of the company were not deterred. They took their small trusted team and shifted base to Indore, Madhya Pradesh and started from where they left off, getting their name and registration in order this time.
Harsh's pragmatic, solution oriented thinking helped Dwellfox land clients quickly and efficiently, as their CV grew. He balanced Amit's enthusiasm and imagination with a realistic grit, that helped translate them into implementable plans. The company began work on producing the socially viable IT products that had led to the initial creation of the company. They were gathering capital, and the world of computers was developing rapidly, making their dreams much more viable.
But in 2020, the pandemic hit. Dwellfox debuted as a Private Limited company that year. It was supposed to be a step towards sourcing funds for the company's shift towards their eventual release of proprietary software and other digital products and services, that would have taken them beyond the consultancy business into the software as a service sector.
Despite this major setback Harsh was not disheartened, and urged his team to keep developing their ideas further. In the meanwhile they expanded operations to the USA and UAE.
Impact 
Dwellfox currently has a revenue of 24 million dollars, and a employee strength of over a 105 people. From their humble beginnings in a 3 bhk apartment in Pune, and 3 employees sharing the entire workload, the company has truly come a long way. It is now spread across 4 different countries, including India, USA, Canada, and UAE. Their team's incredible proficiency with necessary tools like Workday for HRMS, Salesforce for CRM, and Atlassian for Ticketing and Project Management, has allowed them to work in different companies in different specializations.
Indeed Dwellfox provides complete End to End Implementation, Tech Support, Staff Augmentation, IT Staffing and Recruitment, and Application Development for  Android, IOS, Java, .Net, Node js, MERN Stack, Angular Js, React Js, and WordPress. This comprehensive tech expertise has made them the most sought after IT consultant firm in the world, and one of the fastest growing in USA.
Harsh's managerial and technical skill is complemented by his soft and sweet demeanour which makes him a joy to work with for all the employees of Dwellfox. He is the Ying to Amit's Yang, being a grounded and practical person who focuses on the field work, recruiting people, sourcing clients and communicating needs and demands from one side to another. The two are driven by a shared desire to create more socially viable technology that would address issues that plague the world.
For Harsh Dwellfox is a continuation of the entrepreneurial dream he had had as a child. No longer restricted by age, he has poured his heart and soul into building the company, which has paid him back in kind.
Together the two founders are also working on plans of making healthcare affordable and agriculture more accessible and profitable through the efficient utilization of information technology. In the meanwhile, they have been steadily making philanthropic contributions as and when necessary. Through Dwellfox they were able to sponsor oxygen concentrators for the Khargone Government Hospital, during the global shortage, saving countless lives in the process.
Harsh has always believed that human ventures are never devoid of humanity. Why should his business be an exception of the rule. He wants to be able to give back to the world just as much as he has received from it. The growth he aims for is thus not individual, but collective in nature, that moves the world along on the path of progress, making every life that much better through its movement.
Thus, we at Entrepreneur's Today recognise him as a worthy contender for the 40 under 40 list of entrepreneurs, and wish him all the best for the future.