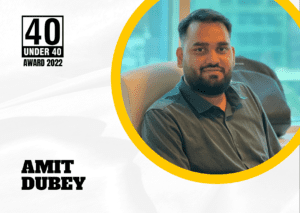 How to make a difference with computers?
Amit Dubey's is a mind filled with imagination and solutions, whose goal is to fulfil others' dream.
It is patience and resilience that has been the core tenets of his life, as he overcame multiple hurdles to establish a flourishing IT consulting firm called Dwellfox.
Hailing from Bistan village , in the Khargone district, Madhya Pradesh, he had humble beginnings and travelled a large distance to reach school. On his way to school he became acquainted with a variety of people from different walks of life and developed a dream of impacting their everyday lives with his work. His aim was to this with his passion for computers and innovate the use of information technology in a social context.
After a degree in computer science engineering, he joined as an associate engineer in a start up, where he met fellow Khargonite Harsh Keshare. They hit it off quickly over a shared dream of independent ventures, and changing the world. Simultaneously, they were earning hands on experience in different departments. Amit was fascinated by sales, and shifted his focus to business development and further on to technical recruitment. After a couple of years in the firm he and Harsh left for greener pastures, and he joined another enterprise as a technical consultant where he continued his learning , keeping alive his dream of using IT for betterment of peoples' lives.
Having a basic conception of how IT can be used for human welfare, he kept coming up with unique new ideas, which were later introduced into the market as  real projects by giant MNCs ,which tripled his enthusiasm and faith in his ultimate dream of making changes in world and peoples' live using IT, where services would reach the grass root level, impacting common people's lives.
After restrospection he realised that if he wanted to impact on broader spectrum with his solution oriented ideas to resolve contemporary social issues in healthcare, education, and farming, a good amount of capital was required. So, he and Harsh leverages their collective experience in the market and started an IT consulting agency that would help them gather funds, and prepare the ground for future endeavours.
Through a couple of years of struggle their business consultancy firm finally took shape as Dwellfox privated limited.
Computing the Chances of Success
The initial days of the company was a tough time for the team involved as they were  balancing their day job with it and were working from a rented apartment in the city of Pune (India) where they wanted to provide their employees with comprehensive food and lodging.
Amit knew that they needed time before the venture started showing a return on investment. So he worked with his head down, and a clear vision for the company which would have a relatively small team of dedicated people who would earn their bread through the quality of service.
While functioning out of Pune, the company had been registered through an acquaintance based out of USA. The relationship had been amicable and informal, but as soon as the venture started making money, it turned sour. The former partner claimed legal rights over the name, and Amit and his team were left in the dust.
This betrayal, despite being heartbreaking, proved a learning point for the two of them. They shifted base from Pune to Indore and rechristened it as Dwellfox, taking care to register it under their own domain this time. As they freed themselves from the shackles of the day job to focus on the company, Dwellfox flourished much faster. With both the staff and services of the company expanding, New offices being set up internationally in USA, UAE and Canada.
The USP of his company was the quality of services provided, which covered the gamut of IT consultation, from end to end implementation, IT Staffing, recruitment, training to technical consulting.
Amit and his team's proficiency with a range of computational and programming tools made it easier for him to service a variety of client needs and he continuously trained his new recruits in the same in order to achieve better per person efficiency.
As Amit grew closer to beginning work on his social technology the company stumbled once again. COVID hit and the world went under lockdown. There was a need to change work structure by incorporating safety measures as lives are more important . It is a testament to Amit and his partners' dedication to their business that the company survived every good and bad times and  got listed as a Private Limited in 2020, the same year that the pandemic hit.
Impact
Dwellfox has working offices in 4 Countries – India, USA, Canada, and UAE and is currently worth $24 million. It was registered in Delaware which is the hub of tech consultancy in the United States. With about 105 employees spread globally, Dwellfox has come a long way from the humble 3 people team with which it started its journey. There are multiple separate companies functioning under the Dwellfox umbrella. Dwellfox is also registered as an SEZ in India, giving it better leeway with labour laws and employee contracts. The office space and work culture is best at Dwellfox.
From that rented apartment headquarters at Pune, Dwellfox  has now been shifted to the best working place, where employees' work satisfaction is guaranteed. It is the best place to work as per Dwellfox's team.
Dwellfox is primarily a third party vendor which works with other large agency firms, through which they have worked with more than 55 renowned global fortune 500 clients.
SOCIAL CHALLENGES  & FLOURISHING IDEAS ….
Throughout all this, Amit still harbours his dreams of innovating social tech that would make healthcare affordable and innovate the farming industry. While in college, he had worked on a prototype software that allowed electricity bills to be pre paid. It helped in keeping track of consumption and consequently reduce usage. It was an innovative application that predated the ubiquity of smart phones.
In a country like India, with the majority of population engaged in farm work and having grown up in a village, in a simple family, he was aware of the discipline and backbreaking labour required by agriculture. So he realised the need to automate this work, and to that effect, developed a system of automation that let farmers remotely start and stop irrigation motors in the fields, reducing their workload and adding ease to their lives.
Amit is quietly working on his products of social viability. He is keen when it comes to taking part in any social initiatives. He was a primary sponsor of oxygen cylinders in Khargone hospitals during the worldwide deficiency , helping save many lives during the pandemic.
A founder with a great vision who can work 24/7 for the betterment of humanity, Amit believes that IT and him are no different , both came in the world just to provide solutions specially of those who are deprived.
He believes that when you work with your whole heart and empathise with others' pain, taking their problems as your own, you develop an energy inside which makes you unstoppable and no challenge can ever take you away from your goal. Real success is when you are adding quality in others' lives, when you are solving their problems while working as a team.
So Amit and Dwellfox are certainly reputable contenders as world changing innovators. We at Entrepreneur's Today wish him all the best for the future.