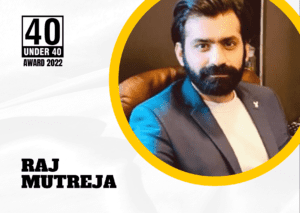 Raj Mutreja, a trailblazing engineer, founded Gravity Concepts, a renowned agency known for events and experiential marketing, after realizing the exponential power of ideas.
Attributable to his predisposition to turn conceptually planned moments and ideas into reality, Raj realized his true calling, and since his goal has always been to explore the craft of storytelling to leave an impression, it all aligned for him. 
Materializing ideas
Gravity Concepts is a quintessential event experiential marketing agency that promises and delivers fascinating experiential concepts and mobilizes high-impact events. Their innovative ideas and concepts help reshape brands to realize their full potential and strengthen the emotional connection with the audience, resulting in increased brand loyalty and recognition.
The team designs seamless, captivating, and interactive concept events that surefire guarantee consistent brand growth. They assist in reinforcing and bolstering the brand's presence by boosting its reputation and visibility through the execution of long-lasting and effective campaigns.
Their journey grew as they sought out talent driven by enthusiasm and genuine about making team moments count. It was only because the team continued to work on concepts, ideas, and execution that Gravity Concepts eventually ascended to new heights of success.
Inspiration
At the age of 23, Raj's father gave him the freedom to pursue his goals and provided him with the steady support he needed to succeed. His father's views on procrastination and its negative effects stoked his intrinsic fire and the need to explore, grow, and experience, which has helped to shape him into the bundle of energy he is now.
From that point on, the inspiration mushroomed as a result of the desire to explore how they could use the brands to touch the hearts and lives of the customers through experiences that corresponded with the times and trends.
Services
Their services at Gravity Concepts include business conferences, client summits, product
launches, celebratory events, employee offsite, social gatherings, exhibitions, international retreats, and a lot more.
Regarding some of the group companies, with Gendaphool, their weddings vertical, Gravity Concepts is expanding its possibilities and hopes to provide memories that last a lifetime.
By providing a one-stop shop for all creative and branding needs, Creative Concierge and the Print Republic will increase the number of clients.
Raj hopes to thrive with IHM by crafting experiences with an internal team that handles all aspects of hospitality and logistics.
Some clients they have served till now include names like ICICI Bank, State Bank Of India, Vivo, and Aditya Birla Capital among many others.
Achievements
Here is a list of renounced events the company managed:
A Meet and Greet event for VICKS (A product of Procter & Gamble) featuring Virat Kohli for winners of the "Meet Virat Contest". The organizers were involved with end-to-end preparations of the event from conceptualization to production, travel, boarding, and lodging for this mammoth event.
The 1st Live show with legendary singer Asha Bhosale. They staged a public event with Asha Bhosale leading the way in Ahmedabad.
A three days conference & entertainment offsite for 150 employees of Tata Capital Housing Finance Ltd.
The Elite Dealers Meet, Total Oil in 2019, held at Hilton, Pattaya.
The glamorous IIFL Drive for Excellence Awards, held at ITC Grand Central Mumbai.
Good fortune and challenges
Gravity Concepts was also one of the few who played it big in 2020, with 300 virtual events that allowed the pandemic to become their sanctuary to bloom and flourish with over 25 MNCs during the first year and a turnover of one million dollars by the second year of inception.
Just like every new venture built on passion and a desire to make a difference, Raj opted to concentrate on the foundation that Gravity Concepts would be built upon when he launched the company. They moved beyond the goal of being favored vendors and became possible partners who might help the client realize his or her vision for generating high-profile events, activations, and experiences.
To Raj, risks are exciting, making every day a challenge that he takes on each day. He looks at every day as if it were the first, and every client with a brand-new narrative. Fortunately, the initial hitches are a continual process that enables him and his team to stay relevant – fresh, and exciting.
A message Raj wants to convey to the young entrepreneurs and believes in is that "At the end of the day when you love doing something – it shows. It needs you to be slightly stubborn, sturdy, and strong because it is definitely not easy but is also absolutely fun!" He adds that there are moments when it all seems like a complete waste of time, but since you've come this far, there is no harm in exploring even further.