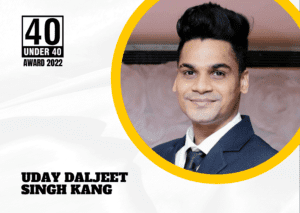 The seasoned businessman and leader, Uday Singh Kang, has extensive experience guiding multiple companies through marketing transformation in a variety of ownership environments, including Cicero Transact. Due to his enthusiasm for tackling the most challenging disputes, he is now a specialist in the development of integrated marketing strategies, high-performing marketing strategies, and product execution.
Not just that, he is also involved in helping his clients manage their organizations proactively by providing efficient strategies and business insights to fulfill client requests. He has a firm conviction that the marriage of diligent work and data-driven marketing usually results in outsized financial development.
Cicero Transact is an exclusive online network that focuses on creating effective business alliances. As a member, one has unique access to their user-friendly platform, giving them insider knowledge of the high-quality deal flow from startups, business owners, and organizations to those who are looking for the additional support they need to enhance and execute their business models. They also assist companies in their endeavors to transact business internationally and in the creation of joint ventures, strategic alliances, mergers, and acquisitions.
Eureka
The moment of realization came while Uday was looking for a solution for one of his clients that he had previously deemed impractical. And so he began his study and contacted a few businesses that offered similar solutions. Since he was already interested in the concept of marketing automation and the use cases in which these solutions can be put to work, it all made sense to him to start his own company.
As they had a limited budget, Uday began looking for developers who could assist him in creating his own tech stack. This then enabled him to charge his clients less for the additional services. Having started the journey by creating their own tech stack, today they can provide a variety of tech stacks directly to clients and guide marketing firms.
Impact
The range of tech stack services offered by Martechs OPC Private Limited includes a Marketing Automation Platform, Data Procurement, Lead Generation, and Demand Generation services. And by lowering their overhead expenses, their tech stack enables B2B enterprises to grow their demand and lead generation campaigns.
Additionally, they aid with tech stack setup and campaign execution on the client's behalf.
To maximize prospect opportunities from current website visitor traffic, MarTech's patented technology platform blends clever marketing tactics with innovative methods. The software, telecom, healthcare, technology, financial, professional services, manufacturing, and transportation sectors are just a few of the many areas in which they serve customers worldwide.
A time of hardship
When they encountered a significant development roadblock around a period in 2018 and were forced to halt all operations for at least two quarters, Uday says that it was the most challenging year for him.
Once again, COVID-19 threw down the gauntlet at them, forcing them to rethink their entire distribution strategy. This prompted them to innovate, and they devised a few new technologies to assist their clients in managing their businesses during COVID. By taking into account these inevitable circumstances, they also made sure to develop a flexible business model.
Milestones
The fact that Uday has maintained the viability of his business while avoiding debt or raising any funding to date is his crowning success. Having said that, he has been collaborating with many clients in varying industries, and so far, the response has been favorable. In addition, he has been helping clients reach sales of more than $25M by the end of the fiscal year 2020–2021 and has been honored as Business Connect's "Entrepreneur In Focus 2019".
Being a solopreneur in his 20s, he shares, "it was very difficult for [him] to find a mentor who could guide [him] in the right direction." But he had always believed that investing time in learning about his industry would help him use his knowledge in practical situations in the future.
And rightfully so, standing today, he has a thriving business under his belt that he has built with his years of expertise and dreams to build another one in the future.