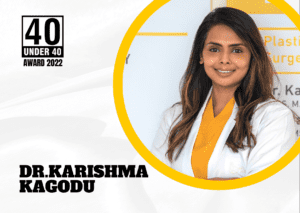 Dr. Karishma Kagodu, a cosmetic surgeon from Bengaluru, is one of the most sought-after specialists in aesthetic surgery nationwide. She owes her success to her mother and the three ideals she upheld throughout her life—Passion, Persistence, and Perfection— the cornerstones of Dr. Karishma Aesthetics. Through Dr. Karishma Aesthetics, she enabled access to cosmetic and plastic surgery for people from all areas of life and is transforming countless lives.
Dr. Karishma is a fully trained, board-certified expert in all cosmetic plastic surgery procedures. With a particular emphasis on body contouring/liposuction, tummy tucks, rhinoplasty, revision rhinoplasty, facelifts, breast augmentation/reconstruction, gynecomastia, cosmetic gynecology, fat transfer, waist sculpting, 6-pack abs, facial rejuvenation, and other non-surgical procedures. Over the course of her more than 14 years in business, she has assisted many patients who sought out life-transforming plastic cosmetic surgeries.
She is proud to provide both men and women with a wide variety of aesthetic operations at the prestigious Dr. Karishma Aesthetics facility in Bangalore, India. Despite societal issues and psychological upheaval, her main objective has always been to make plastic cosmetic procedures accessible for all social classes.
Inception
She founded Dr. Karishma Aesthetics in 2019—an advanced, all-inclusive cosmetic daycare center for procedures in cosmetic/plastic surgery, facial aesthetics, dermatology, skin lasers, medi facials, and cosmetic dental care. Only at their facility was advanced technology like the Alma Soprano Titanium laser hair reduction devices, VASER Liposculpting for Body Contouring, SilkPeel Dermal Infusion Medifacial, and others first introduced.
Dr. Karishma adds, "Initially, I started my plastic & cosmetic surgery journey at the Columbia Asia group of hospitals in Bangalore. I then moved to Kolar and worked as an Assistant Professor at Devaraj Urs Medical College. I have also gained intense plastic cosmetic surgery specialties from Aster Hospital Hebbal, Bangalore, India, where I have contributed for two years. These experiences, hands-on practices, and training have given me the motivation, belief, and joyous zeal to start my center."
As a result, Dr. Karishma Aesthetics (a state-of-the-art top-tiered plastic & cosmetic surgery clinic/center) is thriving and has earned the title of being South India's most sought-after plastic surgery center.
Achievements
Dr. Karishma now carries a name for herself after being featured in reputable print and online newspapers, periodicals, and journals. She received tycoon recognition for her cutting-edge plastic cosmetic procedures/treatment practices thanks to her articles, paper presentations, reputable membership, fellowship, accreditations, medals, specialized training, laurels, and especially media appearances in publications like Femina South Icon, POPxo, Grazia, Pinkvilla, Vogue, Times of India, and Hindustan Times.
Some of her accomplishments in the plastic cosmetic surgery fraternity include recently attending the ISAPS international congress 2022 in Turkey, where she delivered two oral lectures as a guest faculty member. At the Cosmed Clinic in Istanbul, Turkey, she received specialized training in rhinoplasty (nose surgery) from the renowned Dr. Nazim Cerkes. Completed the Fellowship under the Italian ISAPS Society and Dr. Giovanni Botti of the Dutch Association of Facial & Plastic, Reconstructive Surgery (AAFPRS). Additionally, she also obtained training from Dr. Venkat Ramakrishnan at the St. Andrew's Centre for Plastic Surgery in Chelmsford, Essex, in the U.K. in microsurgical onco-breast reconstruction and operations linked to aesthetic breast enhancement.
Dr. Karishma further received professional training in hair transplantation from Dr. Sanjay Vasa at The Vasa Hair Academy in Baroda, and she took part in an ear reconstruction workshop with Drs. Firmin Francois and Alexander Marchac at Bombay and Nair Hospital in Mumbai.
Impact
Since her formative years, Dr. Karishma has always been enamored by fashion and beauty. Her specialization in plastic surgery brought together her two main interests. After graduating with a gold medal, she broadened her expertise in the various facets of cosmetic surgery.
She has been watching fashion icon shows, model hunts, and fashionista programs to speed up her cognitive process as she creates a changing equation for people coping with physical appearance-related challenges.
Big props to her knowledge, training, and restorative techniques in the field of cosmetic surgery, she can now fulfill the wishes of those who yearned for it for a long time.
Dr. Karishma is aware that, as a woman, plastic and cosmetic surgeon, and entrepreneur in India, she belongs only to a select and exclusive section of society. So, when asked about her future ambitions, she says that she wants her brand to become a pan-India household name for assisting clients in changing their bodies through a comfortable, private, and opulent experience.