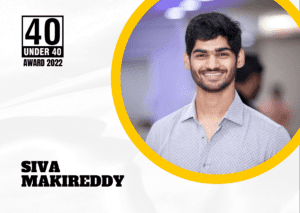 How to make a great first impression with a business card?
This was the initial question Siva Makireddy had asked himself, that led to the foundation and development of the Scube Elate Technologies.
Cards have been an integral part of conducting business across modernity. Its importance to business men is comically highlighted in the iconic scene from American Psycho, where a bunch of Wall Street Yuppies get unreasonably worked up over the superficial differences between the fonts and paper quality of their business cards.
Siva realised that despite such an iconic position in the industry, business cards hardly serve much practical purpose, as they are either collected in seldom accessed piles, or ultimately lost.
In order to combat this waste of money, energy , business opportunity, and paper, he designed a card for himself that utilized Near Field Communication (NFC) technology. Allowing digital devices to read and even modify data stored on a physical tag from a distance of 4 cm or closer, the idea of an NFC business card would forego the recurring printing costs, and the wastage of paper that traditional ones incurred.
The unique idea quickly caught on, and Scube was on its way to success.
Embarking on the Journey
Immediately after graduating from Vellore Institute of Technology (with a gold medal), Siva launched his first start up, a car pooling app called My Cotra. Based in Bangalore, he stayed with the venture while pursuing his Master's from George Washington University in USA from 2017-2019. But finally he had to concede that the start up was not starting up. Car pooling as an idea was yet to be accepted as a popular transportation alternative.
It was on his return to India to shut down the venture that he came across with the NFC card idea. Inspired by the latest contemporary iphone incorporating NFC capabilities, he designed an NFC business card for himself, which caught a significant amount of attention. He knew then that he had identified a niche market, and set off from there.
Although Scube Elate Technologies had begun with these new age business cards, Siva has not been slow in capitalising the digital boom. His venture has rapidly expanded to include more and more software related services to small business ventures.
Currently Scube provides all purpose web based marketing and organizational solutions for business owners, from beginning to end. They have designed Enterprise Resource Planning (ERP) softwares multiple businesses. These are the digital business hubs which centrally organize all the transactions, performances, and statistics involved in a business. The use of artificial intelligence tracking ensures an unprecedented amount of clarity and transparency, that has made this an essential for modern business set ups.
Impact
The first venture Siva had embarked on  had failed despite being a sound idea. The time was not appropriate for it, and he exemplified good judgement in closing it down to focus on something else.
Scube has been able to succeed specifically because it has identified and capitalised on a niche necessity that had been present, but unidentified. It bears no repeating that the digital dimension is the future of business, whether it be in products or performance. The majority of new start ups have focused on developing digital solutions to everyday problems, and for good reason. In the urban milieu, it has caught an enviable fancy that can be capitalised marvellously by the current tech savvy generation of entrepreneurs.
It is a credit to Siva's persistence and vision that has led Scube to success. From a small team of 5 individuals, the employee base has expanded to 35 people. Since 2019, the NFC cards have found over 20,000 users across the 130 countries where the enterprise is active. There are an average of 3,000 business that use their apps and software services, and the number is growing at a substantial rate every day.
Siva is not satisfied yet, with a vision to becoming an institute with a team skilled in solving all business oriented problems in innovative ways. His journey from an initial failed start up, to recruiting talent while in competition with Multi National Corporations, has been inspiring and awesome, and it is not unreasonable to believe that he will end up a mogul in his own right in the upcoming years.