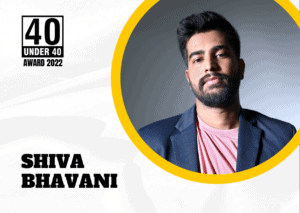 Every successful entrepreneur has a unique story, and Shiva Bhavani is one that inspires stories of other young entrepreneurs in the world. His efforts of not leaving any stone unturned to innovate in order to meet the varied needs of the business community are a testament to his sheer goals and hard work. This changemaker's journey is the prime example of "how changing mindset can change lives".
With this edition, Entrepreneurs Today narrates the journey of Mr. Shiva Bhavani who has made his name quite prominent in the field of digital marketing with his venture Wing Communications. 
How It Started??
Shiva Bhavani, a seasoned entrepreneur and marketing expert, started Wing Communications in 2021, to address the market gap where businesses can avail communication with their targeted audience. He was aware that there are millions of companies offering digital marketing services to their clients, though there are just a few who succeeded in offering what they promised. Hence, to fill this loophole, he established his Digital Marketing Agency, Wing Communications.
With a degree in Computer Science and Masters in Business Administration Shiva has been able to build successful relationships with national and international brands. Before navigating the road to becoming an entrepreneur, he worked as a marketing executive at MovingDneedle and business development lead in various companies like ClicQA and Team Pumpkin.
This helped him to chart out various marketing strategies, contribute to increasing business growth and volumes and attain profitability norms. After acquiring sufficient experience he embarked on his journey of finding Wing Communications
A Steadfast Vision
Wing Communications envisions itself to be an "ace" with its disciplined approach to ensuring the greatest value of satisfaction and contentment to every client it has collaborated till now. The company is leading the way with a mission to deliver transformative digital marketing solutions that will have a real impact on its clients' bottom line. They see more challenging opportunities as a way to raise their standards of service.
A true professional and pioneer, Shiva quote "More than ever before, consumers expect brands to deliver on more than just the apparent. In order to meet these demands, innovation, and establishing an impactful presence in the field of digital marketing and PR, are the founding stones of Wing Communications. Today, Wing Communications is more than just an advertising company or a creative agency; it goes above and beyond mediocrity by providing solutions that incorporate original concepts, unmatched capabilities, and transformative business outcomes."
Wing Communications is all about delivering value-in-returning. The company's prime focus is on its client needs and gives the platform to achieve this with its specialized services. From strategic guidance to design, development, marketing and customer service to ensure that you get the right fit for your business.
Commenting on the foundation of Wing Communications, Mr. Bhavani says, " I made sure to give our services and products a personality – that one thing that sets them apart from the competition. And regardless of the change in a calendar year, strategies, platforms, tools and techniques, the foundation doesn't change. In a world that seems to evolve at warp speed, perhaps it's always good to be reminded that the better defined your personality (your brands and services), the more successful you'll be in your marketing efforts."
Awards and Accolades
A plethora of endeavors and excellent performance of Wing Communications contribute to their gigantic success & achievements.
They have been recognized as the youngest entrepreneurs "30 under 30 by Business Connect Magazine and Trailblazer"
'To a 100 Cr Profitable Business" award for DBMCI by Stakes PR & Communication.'
Won "Trailblazer – PRCA Under 40" Award under Indian television's PR & Communication Aces Summit & Awards 2022.
They started with a team of just 4 people and today have grown to a team of 25 experts and 50+ clients all across the world.
While raising the current standard for their competitors, Wing Communications aims to launch a complete digital marketing solution online.