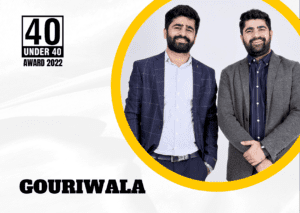 How to capture the garment industry's attention on the first try? 
To be completely honest, it wasn't the first try for Vijay and Pankaj Khatri. At least not generationally. Their grandfather had started the Khatri Brothers as a garment printing business in Jaipur after moving there from Pakistan, which their father had borne forward over the years. But when the two youngest members of the family decided to join the work, they wanted to build their own thing.
It was business they wanted to do, and would have engaged in any available industry to quench their thirst for innovation and enterprise. But they decided to stick to the garment business. Having grown up in the periphery of their family owned mills, the two brothers had gathered an intimate attachment to fabric as a whole. So they decided to build their business in garment design that would produce clothes under their own brand.
Thus Gouriwala Textile Pvt. Ltd. was born.
That was in 2015. Since then their brand has expanded in multifarious directions, with two separate designer labels launched under the umbrella industry. Their products have curved a niche in the market with their unique cloth and garment designs, and their recurring turnover and investment has seen a steady growth throughout.
Yet, they consider themselves to be merely at the footstone of success.
Cutting the Cloth 
When Vijay and Pankaj started their venture under the moniker of Gouriwala, their capital was negligible. In 2015, it was the debut of the multimedia phones, which would later be christened smart phones, and the brothers didn't have enough money to afford one between the two of them.
So whatever capital could be arranged, they invested in a single machine. With no money remaining to hire employees with, the Khatri brothers began doing the work themselves. The labour was even distributed between the two of them. Vijay cut the cloth and designed the garments, whereas Pankaj sewed them and designed the cloth.
The two of them had begun their journey with a very distinct idea in mind. They wanted to make eye catching ethnic wear for ladies. As cloth and creativity were never in short supply for them, they were able to put out quite a robust collection within the first year.
Barely out of their teenage, the brothers stood out in the garment industry, which is generally the domain of elderly men. But their confidence and craftsmanship netted them clients swiftly, and soon they began expanding their production power with additional machines.
After a year of smooth functioning, Vijay decided that he wanted to travel to Mumbai and source clients. So he picked up a bunch of samples and went to Mumbai, picking kurti wholesalers off JustDial. After a week of bone breaking work, lugging all the clothes with him, Vijay got incredible homesick, and returned before the scheduled date. But within that short period of time he had met numerous prospective clients, all of whom had been blown away by their work.
The upward trajectory for the business continued till 2019, when they hit a benchmark turnover of 50 cr. They had 400 active machines and an ever increasing number of stuff.
It was time to upscale their operations.
Vijay and Pankaj deliberated on this decision, knowing that it would be mean a significant increase in risk and responsibility. But the ambitious duo knew that there was no reward without risk, and so the two subsidiary brands were launched, namely Baabla Designers, wholesalers to retail outlets, and Nehamta the direct to consumer brand.
Gouriwala Textiles had gone big time.
Impact 
Baabla designers has 3 outlets, while Nehamta has 70, across India. Nehamta is the primary consumer directed part of the business that has a strong e commerce presence across all the regular sites. There are three factories running in the Sitapura Industrial Area of Jaipur, and they are producing some of their own cloth, while sourcing the rest from across India, including Jaipur, Surat, Ahmedabad, Benaras, as well as parts of China. The type of cloth ranges from natural material like muslin, cotton, modal chanderi, as well as synthetic material like rayon, and there are 40 machines to work on them.
The two brothers have hired 20 more designers to help them meet the demand for their unique sensibilities. The hardworking, honest and god fearing young people who wanted to do something of themselves, for themselves.
The family printing business has had a respectable monthly income of 30 to 60 lakh. They have boosted that to a turnover of 100 cr in 2022, through to the quality of their product and work ethic.
But they remain humble. One of Vijay's favourite sayings is, We still think we are zero. Which is perhaps true, because how else do you scale up so continuously and successfully. They have won numerous awards for their work, and are even part of multiple influential garment associations like the Clothing Manufacturers Association of India (CMAI) of Mumbai, and Association of Garment Exporters Sitapura (AGES).
They treat this success with a divine respect, alluding to the blessings of gods and their elders, attributing a subtle fragility to their work. Their dreams for the future, to reach 500 cr turnover by 2025, and 1000 cr by 2030 are leaps of faith as well.
Perhaps this is why they enjoyed the slump of the pandemic. The two were able to wind away from the hullabaloo of business and spend time with their family and themselves. But they were alert to the needs of all their staff, not laying off anyone, and paying them salaries regularly. During the height of the pandemic, they had given one of their private laptops to their accountants and shared their net banking passwords with them, so that they could keep on top of things, and be in the position to transfer money to whoever required it.
There is a vulnerable zeal to the two brothers' work which endears itself on the designs and prints as well. There is a bright boldness to the colour and design of their clothes. Things made with passion and heart.
Gouriwala Textiles Pvt. Ltd. has a vibrant future ahead, heralded by the colours and patterns on their clothes, and the Khatri brothers are awaiting it with nervous patience.