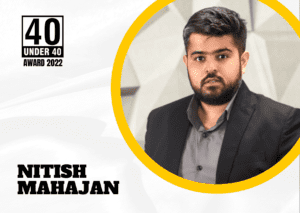 As it became clear that sales of imported micro polyester flannel blankets were outpacing those of wool and mink blankets in the Indian market, Balaji Loomtex Private Ltd. took the lead to bring back the technology of producing micro polyester blankets with a major insistence on Make in India products.
The Panipat-based Balaji Loomtex Pvt. Ltd. was founded in 2017 with the goal of locally producing high-quality blankets rather than solely importing them from China, and in keeping with their longstanding ancestral promise to deliver quality blankets and the knowledge passed down through generations, Nitish and Nikhil Mahajan are here to transform the home textile industry.
By addressing the issues in the status quo, they made significant contributions to the Make in India Movement and assisted the government in saving FOREX by reducing the import of flannel blankets from China, which were formerly the only source of import for these blankets.
The flagbearers
Nitish and Nikhil Mahajan, the pioneers in the textile industry, have made significant contributions to the business and the industry with their love of aesthetics and design, skills, and a thorough understanding of what it takes to run a business, all of which they have acquired over the course of the past seven years being a part of their parent company.
Nikhil holds equal stakes in the company as Nitish and is efficiently managing the production, and back-end operations, which are crucial for any business. Moreover, as someone who began his career as a banker, Nitish eventually made his way into the business and now holds full-time directorships at Balaji Loomtex Pvt. Ltd. and its subsidiaries, which altogether generate more than $500 Crores in annual group revenue. He is a capable problem-solver with years of practical experience and is now working towards his goal of expanding the company with the help of his expertise in the field and knowledge of business analytics. In addition to his influence in business, he is a motivated team player with effective interpersonal and leadership abilities.
Back to the roots
Since 1980, the family-run company has been proudly designing homes with stylish, high-quality blankets and bedding under the brand name Naveno Woolens, which is also the parent company. Thus, Balaji Loomtex Pvt. Ltd. is the conscientious brainchild of the family business that has been in the textile industry for years.
With an assurance to bring high-quality blankets that are woven in-house, with the best materials and reliability, Balaji Loomtex Private Limited is a dedicated and proud blanket manufacturer in Panipat operating under the brand name Gulmohar and recently launched Urban Wrap. Even though they entered this sector only five years ago, they are currently No. 1 in the flannel blanket category. Not just that, they are also an environmentally responsible enterprise and use green fuel in their manufacturing.
Bridge over troubled water
When they first started this business, there was a fire in their factory that nearly brought everything to a screeching halt. However, they rolled up our sleeves, and, within three months, they resumed production. Since then, they haven't looked back. Now, on being asked about where they'd like to see themselves in the next ten years they revealed their vision of being the promoter of the top 10 textile companies on the stock exchange.
Takeaway for young entrepreneurs
Some lessons Nitish has learned in his 20s are to invest in experiences, not things, and that dreams require sacrifice. A message he has for young entrepreneurs is to know their industry better than anyone else. When talking about success, to end on a positive note, he adds that "It's[success] not valued in money… it's valued in the opportunities I give to the people who work with me, and in the fact that I provide worldwide home textiles."