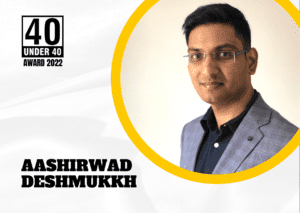 Founded to accelerate the adoption of sustainability in last-mile deliveries, Howdyy is an EV-led delivery startup. The firm, with its headquarters in Bengaluru, has been bootstrapped to date, and it is one of the select companies chosen for the Newchip Accelerator program. Howdyy works in a range of sectors, including the pharmaceutical, retail, FMCG, durable, and other perishable goods industries. There are currently 1000+ delivery partners with a mix of EV 2 and 3-wheelers on the ground. They use a cost-per-order pricing model.
Howdyy is currently operational in Mumbai, Pune, Bangalore, and Chennai. Amazon, Blue Dart, BigBasket, Apollo Pharmacy, 1MG, Porter, and D-mart are just a few of their clients. Additionally, the firm makes more than 5,000+ deliveries each day and over 1,50,000+ deliveries per month.
Stay Hungry, Stay Foolish
Aashirwad graduated from Staffordshire University with a postgraduate degree in electronic engineering. Since the startup's inception, being the founder, Aashirwad has played a crucial role in the quick expansion of the business. He juggles many hats in his current position. He is highly involved in managing the board and is also in charge of technology, operations, company growth, etc. He oversees brand marketing and relations, leads organizational talent acquisition, and participates in fundraising, planning, and implementation. With more than 14 years of experience, he handled all aspects of the company, including management, operations, and finance.
Two guiding principles that Aashirwad believes define him are, "If you want to do it, do it now" and "Stay Hungry, Stay Foolish." He is extremely driven, has a strong desire to see things through, and is persistent in the face of difficulties.
Eureka Moment
Aashirwad shares, "My parent company needed to move certain parts from one location to another during the pre-Covid days. We hired a logistics company that showed us so many flaws and gaps between customer and delivery that we got the idea to launch a logistics company that fills in these gaps."
This helped him devise the idea for Howdyy as the ideal alternative to ICE cars for last-mile delivery after noticing a significant gap in the logistics sector. By deploying technology that is powered by sustainable energy, the company is dedicated to the idea that society can evolve in consonance with nature. Providing eco-friendly deliveries to B2B businesses, Howdyy facilitates a revolution in the industry.
Impact
 The fast-paced expansion of different sectors is the cause of the adverse impacts on society and the environment. The Howdyy team is a catalyst of change. They are on a mission to save and repair the Earth and our society rather than being bystanders who worry about this issue. In addition to achieving their most important requirements, they provide businesses with environmentally conscious alternatives for their delivery needs.
His accomplishments through Howdyy so far entail 9x growth in a year, EBITDA positive in just one year of operations, 0 to 3200 deliveries per day in less than a year, 1 city to 7 active towns in less than 14 months, serving more than 15k+ pin codes in less than a year, and being the fastest-growing bootstrapped last-mile logistics startup. 
Rocky Road
Aashirwad had long held EV as a viable concept and was convinced it was a game changer. Finding a niche, however, was difficult because India has so many EV companies. The eureka moment forced them out of their comfort zone when he directly saw the difficulty of using a logistical service. This was followed by the zeal and determination to pursue the company's mission, which led to the conception of Howdyy.
Still, navigating his way through the industry was no cakewalk. He admitted that encouraging himself and his team in the early days of bringing in new business was the hardest part. However, it was his fervor and unwavering conviction that kept him going, and the motivation came from his drive to set a benchmark in the logistics sector not only for India but also for the rest of the world.
Future Plans
In terms of the company's future goals, he envisions Howdyy developing a lot more unique tech solutions for the delivery market in order to establish a benchmark for the country and on a worldwide scale. Additionally, he envisions the business expanding globally in order to popularize Howdyy and boost its recall value. Lastly, he urges young entrepreneurs to identify their niche and contribute to the preservation of nature in order to build a better future.