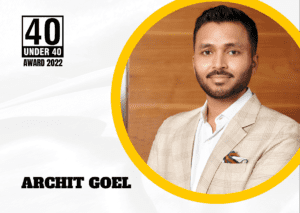 How to involve cutting edge technology to evolve a business?
Archit Goel was born into the family that owned the eponymous Goel Group of Industries. Founded by Shri Hari Ramji Goel, and based out of Raipur Chhattisgarh, the Goel Group had been primarily involved in the heavy industries of mining, steel, and power, with later expansions into education and media. Under the patronage of the group several individual brands had been established, and flourished, like the Goel TMT, Goel Pipes, N.H. Goel School, NH Goel Finishing School, IBC 24 etc.
Archit is the third generation of the family to join the agnastic business, and from the very beginning he had his sights on expanding their product line. Having grown up in the business environment, he had a comprehensive idea about the machinations that went into the setting up and running of an enterprise. It had also allowed him the opportunity to flesh out his future plans regarding the company.
He wanted to create a wing dealing in frozen foods.
Moving Into a New Sector
Archit joined the business in 2012. He was in his early twenties then, and true to the nature of his age, his vision was technological upgradation. As an alumnus of Kingston University, London he had boosted his familial experience with formal education and training, and was officially designated the responsibility of the operations and techno commercial division of   Shri Bajrang Power and Ishpat Ltd.
He had simultaneously involved himself with the project management and expansion of the group. While researching prospective opportunities, he came across a report by the Market Research Future (MRFR) that projected a 4.21 percent growth rate in the frozen foods industry between 2020 and 2023. After looking into the matter in greater detail, Archit finally began developing the business in 2019.
Goeld was to be a repository of tasty vegetarian food with both classic recipes as well as recipes with unique twists on older formats. Its line up of products included Indian Flat Breads like naan and different types of parathas, Snacks like veg shammi kebabs, dal aloo tikki, as well as mac and cheese pops and spinach cheese pockets, Desserts like papay halwa, sewai kheer, and even an extensive line of 100% Vegan Products like quinoa patty.
The venture was ambitious, and quite unique, and was to function from under Shri Balaji Alliance Ltd. But as it was set to launch in the February of 2020, the pandemic struck, halting its business. The disruption of the supply chain had affected multiple businesses, especially of the Fast Moving Consumer Goods (FMCG) variety. Frozen foods have a limited shelf life, and this interruption resulted in a significant loss for the nascent company.
But Archit was a patient individual, and he held on to his belief in the venture. As the reigns of the lockdown loosened, Goeld started moving goods across the country, and it was soon on its way to becoming the fastest growing frozen foods company in the country.
Impact
Goeld has been a benchmark of state of the art production technology in Raipur Chhattisgarh. Indeed, it is the first food processing plant of the state. Tech buff Archit has spared no expense in installing machines in the mill, sourcing automated technology from industry leaders in Japan, UK, Germany and Sweden.
Initial investment for the venture had been somewhere close to 40 crore rupees, which Archit has disbursed wisely in creating an unit with a production capacity of 6500 MT.
Along with the huge quantities of production, Goeld as a brand is also heavily concerned with the quality and safety of the products being shipped, as they go through various check and balances, including metal detectors and x ray machines. The food is assured to have zero trans fat, no added colour or preservatives, and has been  across the board from different certification schemes and quality control organizations like FSSC 22000, SEDEX, FDA, HALAL, and BRCGS.
And of course, the products itself have been roundly praised by consumers, as unforgettable culinary experiences that have caused them to return repeatedly to the brand's door. Goeld's line up of foods is available in more than 3000 Premium A category outlets, across not just major cities and towns in India, but overseas as well.
Archit Goel has dreams of untangling the different pain points that are holding back the frozen foods industry, and be a beacon of inspiration for the up and coming entrepreneurs. The third generation entrepreneur believes that this is truly the time for merit to shine in the Indian business space, and he will do whatever it takes to make sure the scales remain balanced.