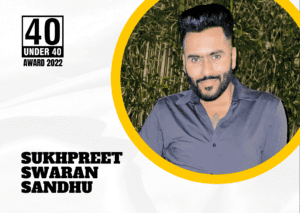 Sukhpreet Swaran Sandhu is a young and seasoned Human Resources leader. He is currently the Head of Human Resources of ITILITE, one of the fastest growing global SaaS firms in the Travel & Expense space.
One of the youngest ever HR heads in India. he took charge of the first managerial position at the age of 23, a global HR leadership position at 27, and the HR Head for a large unicorn under the age of 30. He is in his third inning in the HR leadership role. Sukhpreet has assisted several Founders & Entrepreneurs in their 0-1, 1-10, 10-100+ journey of organization scale-up & business growth across the globe with proven records.
Gathering Experience
Since joining the industry at the tail end of the first decade of the millennium, he has played an imperative role by working with some of the well-known founders of many notable start-ups. Spinny, IndiaMart, and Myntra-Jabong; were all built under Sukhpreet's key contribution towards business growth, impeccable people practices, and binding the culture of these firms with the business manifesto for a sustainable expansion journey.
Software as a Service and Human Resources have both seen a significant upsurge in importance, and consequent popularity, in the marketplace. The competition and workload are quite high, and the risk-reward binary is dynamic and often brutal. Sukhpreet has been contributing to the industry for over 15 years, helping multiple different companies scale up their financial worth, culture, and ethos, and making them the employers of choice. In his current role as the People Leader at ITILITE, he has grown the firm 2x in the last year and leading the torch to build yet another best place to work.
His innate interest and skill in leadership development, talent management, scaling firms, DEI and generally constructing a well-maintained and popular work culture has been supplemented by his prestigious education & certifications. He is an alumnus of the Management Development Institute, Gurgaon (MDI) and pursued further education from XLRI Jamshedpur and London School of Business and Finance, United Kingdom.
He shares this vast directory of knowledge with many aspiring professionals. He has coached thousands of people, including people who became business leaders in their niches, and has also helped train students who are transferring into the corporate sector. Thus, his work has influenced not just the institutes he has worked with, but the people who have joined the profession.
And by dictionary definition, that is what HR is supposed to be doing. He has effectively helped define the nature of work he participates in along with becoming an example of its benefits. He is a brand unto himself. His history speaks for itself.
He has worked in a wide range of industries, from IT, Consulting, and e-Retail to Automobiles across geographies, and has delegated work in a variety of different cultural contexts, which makes his approach quite universal.
Impact
Sukhpreet started his corporate career journey at a very young age and about one and a half decades later he had the distinction of leading a company into unicorn status. The news of him joining ITILITE was a widely reported event in the business & industry world, and detailed significant elements of his history and achievements. He has also been widely honoured by media houses and organizations for his contributions to the world of business. He also features among Asia's Top 100 Power Leaders in Human Resources.
What he preaches is an embrace of technology and employee-friendly workplace practices. His contributions towards addressing gender disparity and hiring discrimination against queer people and people with disabilities speak volumes about the progressive work culture have been able to foster at ITILITE. He is generally in favour of decentralization and delegation, with self-contained teams working on their projects at their own pace, and has pushed for more mental health-friendly practices.
In his current place of work at ITILITE, he transformed the culture which integrates the cyberspace of the work environment through community acknowledgment of employees by each other hence giving them an internal platform to grow & succeed. He has also made multiple quality of life improvements for his employees by implementing a holistic wellness approach at work and making the office space pet friendly; a powerful employee value proposition that revolves around Wellness, Learning, Career, Rewards, and Inclusion.
Sukhpreet says, life without struggles and learning, is not a life lived at all. And the working conditions he implements seem to allow space for those struggles to be felt and overcome, instead of being brushed aside. He has a keen interest in solving critical & challenging problems that kicks him to excel as a well-rounded professional.
Having lost both his mother and father in 2017 and 2021 respectively, he is aware of the sudden devastations that life offers sometimes and has active empathy for people. It is this quality that ultimately makes him such a successful HR professional who is very high on empathy & emotional quotient; yet practical. That informs his love for writing, music, fitness, dancing, and teaching, which he spends the rest of his hours engaged in. A curious affinity for human beings, and how resourceful they can be in their reality and dreams.
Quoting him, he says, "Life is shorter than we think it is & life without struggles is not a life lived at all. Help people, be kind, and practice gratitude; trust the universe and it will align you to the right people & things you manifest positively. What you don't learn & repair; you repeat. And last, but not least, remember that you are an unstoppable and powerful force that can do wonders."