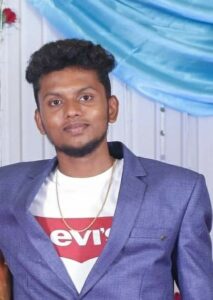 Meet Mr. Vinoth Franklin. He belongs to Tamil Nadu. He is from a very rural background where there is no facility of learning and no Computer center for upgrading his skills. And the important thing is that he belongs to a family of farmers. From the past 5 years, his family struggled due to financial issues due to corona and other family problems. His studies were affected and he was very worried about his future. His parents have no money for his higher studies. In farming also there is no profit and his family was much worried about the future. Many times he cried in his own and won't show his feelings to others.
Life is not steady for everyone and in the 20s we struggle the most because there is no money in our hands.
Many ups and downs were there which tests us.
He wanted Self-confidence in him. He overcome poorness and his past life motivated him to start the business.
Before starting his business he faced a lot of challenges, his family income was low and he was very stressed.
Then he came to know about the affiliate marketing business. Firstly he was unaware about this. But then he started studying about the business. When he heared about the business he had a fear in his mind about his future. But soon he became very confident as he learns new skills. He worked very hard there and achieved great success.
He earned a six-figure income in a very short time. He earned more than 4 lakh rupees in just 4 months. Today he is mentoring more than 1200 people to achieve their dreams.
Read More: Prajakta Koli's 'Mostly Sane' Life
He loves helping people who need guidance. He wanted to become a top entrepreneur of the country. He shares his experiences with young children so that they can also shape their futures perfectly.
He shares that our country has many languages. But there are many disputes between many states it should be rectified fastly so that our country can grow together without any hurdle. All should unite together as Indians.
All young people should study hard and follow their passion. So that you can have a good future.
Vinoth Franklin is a successful digital entrepreneur today and is guiding a lot of people. If you too are entangled in your life, how to find and work on a new opportunity in this great time. You can message Vinoth Franklin on his Instagram.
Read More: If You want to be an Entrepreneur, First join ' Entrepreneur First ': Esha Tiwary
The pages slugged 'Brand Connect' are equivalent to advertisements and are not written and produced by Entrepreneurs Today journalists.