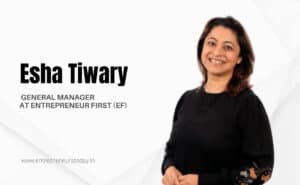 Esha Tiwary – Established in 2011, Entrepreneur First has been helping start-ups flourish all around the globe. It is a foundation that takes on talented individuals with unique and quirky ideas about advancing business and market spaces and network them among themselves. With pre-seed funding and guidance from industry leaders and experts provided under EF's tutelage for six months, they successfully developed startups are introduced to outside investors.
Entrepreneur First opened a branch in India in 2019, whose leader Esha Tiwary refers to Narendra Modi's statement about this being the 'Golden Era of India's startups', to exude hope about the future of their investments in the market.
EF's investments are mostly in the tech sector, with work in data analysis and management, virtual reality, machine learning, artificial intelligence, etc, with a focused interest in the developments of web3.
The popularity of Entrepreneur First's six-month fellowship is massive and invites a host of interesting and exciting application letters, which is the first step to being accepted. EF's website cheerfully proclaims that they are looking for the people behind the ideas, and even people with the vaguest of ideas or inclinations may apply. However, the acceptance rate is only 3 percent of the total number of applications, which is steeper than the rates of most Ivy League colleges.
Read More: The Nayika of Nykaa: the woman who rang the bell at Bombay stock exchange
The final admission into the institute happens after two consequent, and consecutive interviews. Then the vetting process of the individuals starts, and they are paired with co-founders and their ideas are given shape, with limited funding available to help develop a marketable product, and an initial customer base.
Once the startup is in motion, the institute invites associated investors and companies to look at the businesses developed to see which ones they would be interested in.
Esha Tiwary stressed on the constant guidance that every new cohort receives from the highly qualified faculty every step of the way. That is why 'Entrepreneur First' has seen at least 30 percent of its cohorts going on to successful seed funding of their start ups, and launching to the market.
The organization itself is valued at more than 4 billion dollars in total, and has branches across six countries, including India, and has a list of over 500 companies in their portfolio.
EF is making headway in the tech integration of different industries. One of their start ups, Tractable is using deep learning to reinforce accident and disaster recovery and is in the later stages of funding with more than 1 billion dollars. AccuRx is another start up, a healthcare communication platform, currently valued at 38 million dollars. So EF is not only helping individuals realize their entrepreneurial dreams, but also working towards constructing a more socially enriched life experience across the globe.
Professionals and individuals from diverse backgrounds apply to join the six month cohorts, including Ph.D holders, data scientists and analysts, ethical hackers, and the like. Thus the audience and consumer base for the global talent agency is enormous and eager. With their new branch flourishing in India, it is indeed the most exciting time for Indian start ups in its entire independent history.