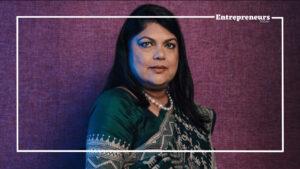 Born on 19th February 1963 in a Gujarati family, Falguni Nayar became the inspiration for all the women in India. The woman who became a household name after Nykaa got listed on BSE and NSE has made a transformational change in the way we shop beauty products online. After a 20 year stint as an investment banker, Nayar decided to build a beauty empire that was destined to get listed as the highest valued company at the Bombay stock exchange followed by Paytm and Zomato. Nykaa has a net worth of around $7.4 billion while Paytm and Zomato have $3 billion and $650 million respectively.
A graduate of IIM Ahmedabad, started her quest as an entrepreneur in 2012 when she quit her high-paying job as Managing Director at Kotak Mahindra Capital Company. For the first couple of years, the business was run on personal savings. After the honeymoon period of two years, due to a good network, Nykaa was able to get funding. Only in 2020, Nykaa turned unicorn.
In a 2017 interview, Nayar had mentioned they had to plan how to set up an enterprise resource planning system since the operational work wasn't efficient. This year Nykaa had a turnover of Rs 214 crore, surpassing its competitors like Amazon and Purple.
The company has diversified had survived the covid times due to increased online shopping trends. It reported a net profit of Rs.61.96 crore in the field ended March 31, compared to a net loss of Rs 16.34 crore in the last annual year. Revenue grew by 38% y-o-y basis.
One of the main reasons that made Nykaa reach millions
of women is its omnichannel distribution strategy and diversification of the business. Apart from selling Indian as well as international beauty brands like Maybelline, Lakme, Lotus, and more, the business has created a brand of its own. By opting for influencer marketing and doing social media campaigns, Nykaa stays a relevant choice for the modern woman of today. While most of the revenue flow from its beauty business, Nykaa also owns a fashion brand contributing to higher revenue.
Apart from online retail shops, the business has also invested in building offline stores with elaborate formats, replacing the mom-and-pop beauty stores. The beauty giant has more than 50 stores across the nation. They are divided as Nykaa and Nykaa Lux depending on the products available.
The beauty industry has its leader as Nykaa is now the highest valued company in the stock market.  A Nykaa has proved her worth as a leader of the beauty business.