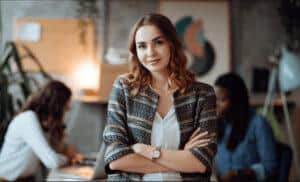 With the growth in gender equality, educational facilities given to women, and the exposure provided in universities, the level of entrepreneurial activities taken up by women have increased multi-fold in the past few decades. A few of the well-known entrepreneurs of recent time are Falguni Nayar, Vandana Luthra, Shahnaaz Hussain, and Indra Nooyi. It is interesting to see that these entrepreneurs have excelled in their respective sectors. With the Nykaa getting listed at BSE, Falguni is the latest inspiration for many young Woman Entrepreneurs shaping the New talents of India.
In a world, where doing business was perceived to be a male-dominated activity, the success stories of Nykaa, VLCC and Biocon throws light on the fact that today's women are risk-takers and are not only confined to desk jobs. With a literacy rate of women increasing annually and a higher number of women joining the corporate, the world should be ready to see more Indra Nooyi and Falguni Nayar in the upcoming years.
Falguni Nayar contributed to the GDP by being the founder of the top valued beauty brand Nykaa which recently got listed at BSE and NSE. Similarly, the contribution of VLCC founder Vandana Luthra to the beauty and wellness sector is undeniable. She built a wellness-oriented brand, and we can see VLCC branches in almost every city. On the other hand, the biomedicine research company is founded by Kiran Mazumdar Shaw. She started her business in a rented garage in Bangalore and now the company is leading in the biomedicine research sector. All these entrepreneurs have found their niche and worked exceptionally well, giving India some great brands. All these women have benefitted from their past experiences and made a breakthrough in their entrepreneurial journey.
An increase in female entrepreneurs has to lead to changes in demographic characteristics and lead to economic growth. Women-owned businesses enterprises play a prominent role in inspiring others and generating employment in the country.
There is a need for sustainable growth of women entrepreneurs, to promote the idea of female empowerment within businesses, and Startup India is helping to strengthen the women entrepreneurship ecosystem, through policies and initiatives, and the creation of enabling networks.
While there has been inspiring stories, we cannot deny the fact that woman still fact social pressures and societal norms do affect their abilities at the workspace. The unreal expectations to be an ideal wife, mom and still excel at work to be recognized. Unfortunately, in India, the 'woman of the house' is expected to keep it all together. So an Indian woman goes through personal struggles while proving her work while not ignoring her family and societal responsibilities.
Leading a company is not a cakewalk. It includes days of self-doubts, heavy losses and often the leader has to take risky decisions. All this requires knowledge of strategy, knowledge of market trends and operational know-how. During the struggling days, a woman needs support from her family and an attitude to face the hurdles.
Startup India has started some initiatives like providing monthly allowances for woman lead startups, reimbursement policies, and others.