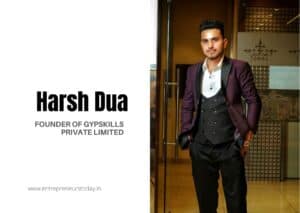 Harsh Dua – I am the Founder of GYPSKILLS PRIVATE LIMITED. I am 21 years old and I lives in Ludhiana, Punjab. Till now I did many businesses and the first business I started when I was only 17. I did digital marketing, affiliate marketing, door selling, FMCG (fast-moving consumer goods) consumer selling, freelancing, etc. I worked in more than 3 MNC's and it was a great experience for me. There was no guide that guides me about entrepreneurship but I read many books and watched videos from many platforms that gave me much information and gained experience. That each and every deed help me to become an entrepreneur and I start working to initiate my company during my college and now my company is successfully running. Also during my college time, I had very few friends and almost zero supporters but I always believed myself that's why I am standing here.
When you start your Entrepreneurial Journey and How?
When I joined my college at age of 17, some entrepreneurs came to my college as a guest then they taught very beautiful lessons which was the trigger point for me then I take an oath to become an entrepreneur and at ending of my 17 I started my first business as a direct seller by taking some products from manufactures and start selling direct to customers and gain many experiences that help me till now in my current businesses and its going on. When I was 18. I worked as FMCG sales and services and gained one of the best experiences of my life and I left it at my 19. When I was 20. I started working for women awareness projects but it was 2020 when covid19 came. In 2021 I started my own company by gaining many experiences.
What strikes in your mind to start this business?
From the beginning of my career, only one thing strikes me every time I want to start something of my own, but without any experience, it is not possible that's why I gained experiences in different-different fields. When covid came it totally changed the market phase. Every business will be shifting to online platforms and digital marketing becomes at its peak. And I had the hardcore experience of digital marketing so I decided it is the right time to start something of my own I started to research and in 2021 I started my company i.e Gypskills Pvt. Ltd.
Read More If You want to be an Entrepreneur, First join ' Entrepreneur First '- Esha Tiwary
Specific service of your business.
In my company, we focus to teach people how everyone can become an entrepreneur. We provide many learning stuff to people related to marketing, online business creation, etc. Not only this, My company brings a revolution in the market by providing automation software free of cost that's a real-life cost in 100 of dollars but we provide free because to make it easier to implement. That technology helps to generate unlimited quality leads for every business because without leads no business sustain, so we solve the biggest marketing problem with our best technologies. My company also focuses on growth hacks that help to grow in any business by taking help from professionals who are best in their Niches.
Your state of mind before starting the business.
I am very ambitious about my future and success. When I was in the initial stage I never thought about my business failure because I will never regret if I face some failure but I regret when I never started something.
What are your achievements in your field or business?
My company is incorporated as a Private Limited company and after that, I apply for DPIIT ( Department of promotion of investments and Internal Trade) and was successfully registered by Startup India that is one of the biggest achievements of my career that my startup is approved by the government. I cracked seed fundings from startup India and got funding for my business.
Also as I did many businesses in my past they were also like an achievement of mine and I earned around 1 million from that. My company is running successfully and now I will start another new business and in 2022 I will launch my new business.
The most difficult and inspiring time in your journey.
I have very few supporters in my life but I always believe in working hard and working smart but during the covid period, it was a difficult time for not only me but for everyone also. That time was a very depressing time because of the shutting down of every work. If I talk about the most inspiring time then when my father supported me to initiate my startup. My father is my inspiration. He always motivates me no matter what the situation is like a Hero.
How will you see your company after 5-10 years?
The current company that I am running belongs to the technology and education field and these are the type of fields that are recession-free. No pandemics can affect these industries. And the technology in my company has a bright future and after 5 to 10 years it will turn into a billion-dollar company that I believe.
Any message you like to convey to the country
I want to give only that message that doesn't care about people even they are in your support or not, just focus on your goals. Start believing yourself because self-confidence is very important to do something out of the box in life. Make your goals and start working on them. Just be ambitious always on the right platforms and you will be successful one day. I believe in myself so that's why I am reached there