Autoimmune diseases are strange breed. The immune system, meant to be of assistance to the body, identifies benign materials in the biology and attacks them. Essentially, it becomes a self sabotaging experience for its sufferers. They have to control their existence and consumption in certain patterns to avoid flare ups. Annika Dhariwal was faced with multiple consecutive stomach flare ups at the age of nine, which had to be controlled with antibiotic regiments.
The reason for it was discovered during a summer vacation trip to the USA, where she was diagnosed with Celiac disease. Celiac disease is caused by the reaction of the immune system to the presence of gluten, a protein found in wheat, barley, and rye. Its effects on the human body are far reaching, with painful symptoms like diarrhoea, gas, headaches, as well as long term consequences that include neurological troubles, and raising the risk of intestinal cancer.Annika is one of almost eight million people in India afflicted with the disease, a number which is unreflective of the actual expanse of patients due to a lack of proper diagnosis and reportage. AIIMS (All India Institute of Medical Sciences) has identified the only way of combating this disease as a strict control over gluten intake.
Read More: Prajakta Koli's 'Mostly Sane' Life
While that may seem like an easy solution, the food industry in India is not up to the task of providing gluten free alternatives to essential items.
Annika Dhariwal has suffered through the implications of this knowledge and resource gap about Celiac disease, which has the possibility of taking on pandemic proportions. Not only could she not be diagnosed within the country, but following that revelation accessing gluten free food stuff has been a major pain. She has had to import special ingredients and consumable from the usage.
A student of Cheltenham College, she realised that this unavailability is somewhat endemic to India, as 'Any random pub or restaurant in the UK would have gluten-free marked food options if not an entirely separate menu…'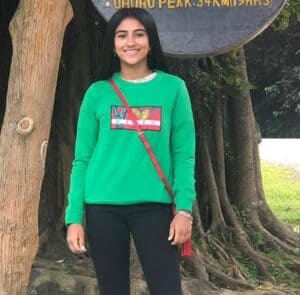 In response to this, Annika Dhariwal created a social platform called Gluten Free Jio in 2018, which sources information about Celiac Disease and its subsidiary effects. Being a relatively uncommon disease in the subcontinent, it is difficult to diagnose. In her efforts to bridge this knowledge gap, Annika has held seminars in schools, and even written a children's book with an eight-year-old protagonist and their efforts to deal with the repercussions of Celiac disease. And she has also reached out to people through her educational videos on YouTube.
Her latest endeavour is an app that helps users identify restaurants and shops that sell gluten free food alternatives. Still in the beta testing stage, the app is serving users in Chandigarh and Punjab, with plans for pan India implementation in the immediate future.
Read More: If You want to be an Entrepreneur, First join ' Entrepreneur First ': Esha Tiwary
Developed with input from her techie dad Manipal Dhariwal, Annika wants to turn it into a digital marketplace for gluten free products. Her plan post monetization is to donate most of the proceeds to organizations like Celiac Disease Foundation, and help motivate better research into the treatment and impact of the disease.
This ambitious and dedicated initiative towards developing a consummate conception of this understudied and misunderstood disease is truly commendable and inspiring, and will hopefully have tangible impact in the future. From Entrepreneurs Today, we wish Annika Dhariwal all the best.