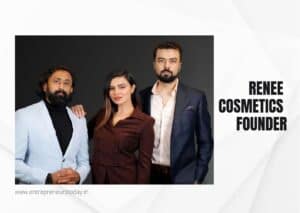 RENEE – Mensa Brands has recently entered the unicorn club of India, having become the fastest and youngest of start ups to have reached an investment margin of $1 billion. Co-founded and run by the former CEO of Myntra Ananth Narayanan, Mensa is a brands aggregator and roll up firm, which has been busy buying up start ups of various kinds across the spectrum of product diversity. Their aim is to streamline the production process of acquired brands, to optimise product quality and pricing.
One of the firms which has secured a significant amount of funding through Mensa's efforts is the cruelty-free beauty brand, RENEE, based out of Ahmedabad. With the $10 million Series A funding secured through the assistance of Mensa, RENEE is looking to expand their offline presence, along with an enrichment of cataloguing and business practices.
Read More: Gluten and Glory: Annika Dhariwal Crusade Against Celiac Disease
The Indian cosmetic industry is a $30 billion industry, as of the last fiscal year, and Renee is primed to take advantage of its ever growing repertoire. The brand's projected claim at the end of the current fiscal year is 150 crore rupees, a more than two fold multiplication of its previous year's earnings. According to Ananth Narayanan, 'RENEE Cosmetics has established a unique positioning and garnered customer love in the competitive beauty market. As the colour cosmetics segment rapidly grows over the next few years, I believe that RENEE Cosmetics will emerge as a category leader owing to its innovative products and strong founding team.
Read More: If You want to be an Entrepreneur, First join ' Entrepreneur First ': Esha Tiwary
The 'founding team', led by Aashka Goradia Goble in association with Priyank Shah and Ashutosh Valani, wanted to provide the Indian population with professional quality cosmetic goods without indulging in animal testing, and other standard but cruel industry practices. Along with selling through online outlets, there are already more than 500 physical stores across the nation that stock RENEE products. With the additional investment, valuing the company at $11 million, they seem set to take absolute advantage of the booming cosmetics market of the subcontinent.