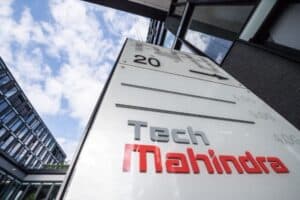 Forbes has been listing the most innovative uses of blockchain by companies worth over a billion dollars since 2019, in their Blockchain 50 list. Tech Mahindra has been the only Indian company to be featured in that list for the second consecutive year in a row.
Tech Mahindra is the technology wing of the Mahindra group, and has helped develop more than 60 blockchain based products across telecom, media and entertainment, manufacturing, retail and energy.
Blockchain has currently over taken the popular fascination of the business world through its implementation in cryptocurrency. But the myriad ways in which its secure record keeping methods have been utilized by different organizations has been a far more interesting study. Artists have been utilizing blockchain to create NFTs (nonfungible tokens) that record the authenticity of the creator with the use of time stamps. Investment companies and banks have used the blockchain system to streamline their record keeping capabilities and make it easier to coordinate and calculate transactions across the globe.
Read More: RENEE 's Renewal: $10 Million secured through Mensa investment
Tech Mahindra's most interesting innovation in this regard is the VaccineLedger. Developed in cooperation with UNICEF and Gavi, this blockchain is part of their NXT.NOW framework of 'Human Centric Experiences'. It helps track the supply, custody, location, temperature, and purchase orders of each vials, and prevent counterfeiting. It has been implemented in two states in India, with plans for nationwide expansion. The blockchain is allied with the World Health Organization's COVID-19 vaccine database.
Other utilizations of blockchain by the Mahindra subsidiary includes the 'Stablecoin as a service' for financial institutions launched in cooperation with Quantoz, a Netherland based blockchain tech incubator.
Speaking on the honour of being included in Forbes 50 Blockchain list, Tech Mahindra VP and Practice Leader, Blockchain and Cybersecurity had this to say;
'At Tech Mahindra we are at the forefront of leveraging Blockchain based solutions and are pioneers in NFTs and digital identities to solve tough business problems and create a nuanced experience for end-users. this recognition by Forbes is a testimony to our continued focus on developing blockchain-based solutions to meet evolving customer needs.'
Read More: Gluten and Glory: Annika Dhariwal Crusade Against Celiac Disease
With the innovations happening under the firm's direction in terms of both humane and economic implementation of blockchain technology, we are hard pressed to disagree with him.