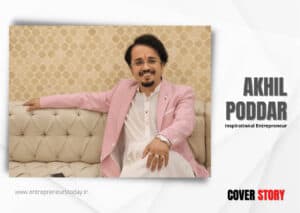 Cover Story – Akhil Poddar is a very inspirational entrepreneur for today's youth…
Poddar Group of Industries was established in 1979 by Dwarka Prasad Poddar, and later inherited by his son Uttam Kumar Poddar. Producer of PCC electric poles during the height of post independence development of India, they soon became one of the leading business tycoons of the country.
Based out of Jaipur, in Rajasthan, the business is currently run by Akhil Poddar, the third generation of the family. He joined the business at the young age of 19, rising to the top, superseding the wisdom of his ancestors.
The Poddar Group is a successful business venture, with an overall supply of 5.5 lakh PPC poles across the Rajasthan expanse. However, it has been recognised in the public sphere through the image of the newest scion of the organization, Mr Akhil Poddar.
Before joining the family venture, Akhil had dabbled in an apparel start up, which had seen great success, ranking a third in a Pan Indian study within only three years of its existence. So he is clearly a person aware of the value of marketing and imagery. And he seems to be taking full advantage of it.
He has been covered by multiple press outlets, including Mint, Outlook, and The First Press Journal. Business World has referred to him as a 'Business Czar'. The Week has cheekily dubbed him an 'Awful Entrepreneur'.
These press releases, spread across the length of 2021-2022, focus on his extravagant interests and lavish lifestyle. The coverage of the organization he represents is minimal, as opposed to the documentation of his exploits.
He is an apparel enthusiast, with clothes and accessories from Louis Vuitton, Gucci, Armani, and Tom Ford. He likes cars, and drives around in his Mercedes, Range Rover, or Jaguar to quench his need to travel to exotic locations.
There is nary a mention of the growth of the organization he is working for. The only clear allusion of his success is in the start up he had previously backed, and the simple ability to present himself in such a grand fashion.
He wants to inspire the youth of today into dreaming about success. And what better way to do that than to find a connection with their aspirations? Thus, his reaching out to the public through his larger than life personality.
This is the age of the floating economic system, and cryptocurrencies. The balance of the share market is susceptible to the winds of society and popular culture. And Akhil Poddar doesn't take wasteful financial decisions. In his own words, there is a difference between 'investment' and 'wastage'.
Take a guess which one he practices.
This is how Akhil Poddar is reaching out into the pool of business profit. The company he leads produces an indispensable and important element of the economic ecosystem. Especially now, with the rapid spread of electricity and connectivity across the country, PPC electric poles are certainly an in demand and expensive speciality item. Akhil has just taken a shrewd entrepreneurial route to find it some share space in the market.
It is by no means an unique or new idea. How many businesses do we recognise through the personality cults of their founders and CEOs? Perhaps the opposite is an easier question to answer. Even recently, with Tata becoming the main sponsor of IPL, a brief celebration of Ratan Tata ensued. And it began with a few pictures of his hip, young, millennial assistant. Akhil Poddar is himself in the position to market himself as the 'hip, young, millennial'. And he has taken up that opportunity with relish.
He has ensured that his image will circulate and enhance the brand of his ventures. And he certainly seems primed to expand the repertoire of 'Poddar Group'. Indeed, his beginnings were in a different industry altogether, where he presumably invested as a teenager. So a canny handling of money has always been a part of his skill set. There is no reason to imagine that he isn't curating his public persona with a strategic precision. It will come in especial use when he launches his own clothing line within April- May of 2022.
So Akhil remains an entrepreneur to be watched. His individual charm certainly has the necessary impetus to raise the stakes of his already successful family business. Indeed, it is wont to say that, he even speaks for success.